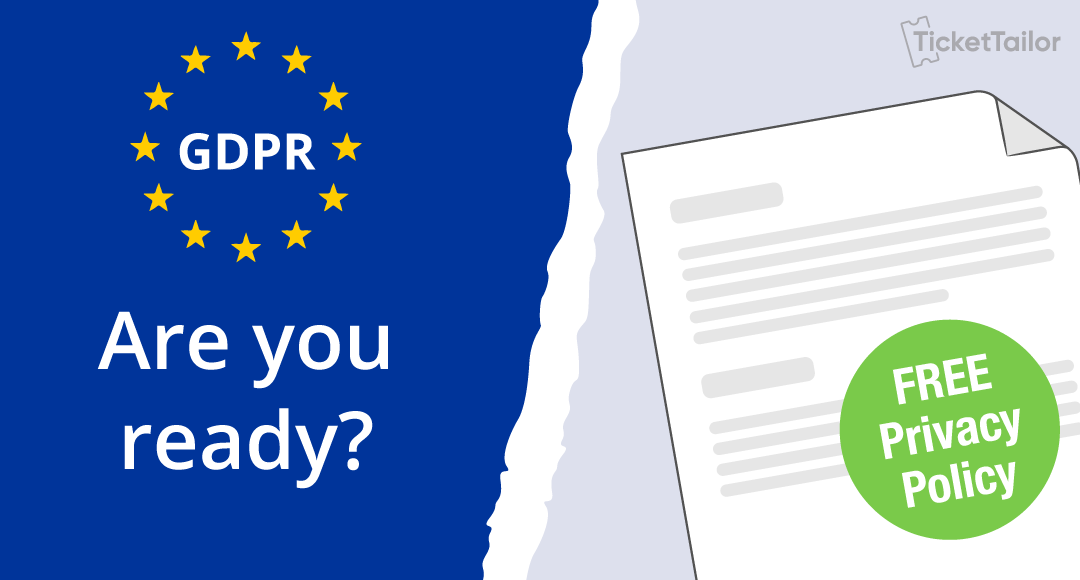 You've probably already heard about the General Data Protection Regulation (GDPR) - a new European regulation that comes into force on 25th May 2018. It introduces greater responsibilities for organisations operating in Europe that collect personal data such as event organisers.
As an event organiser you inevitably have to collect some of your attendees' personal data in order to provide your service. Under the GDPR the consequence of this is that you're now responsible for taking measures to protect this data and to inform attendees about how you're doing this - usually this information is set out in a privacy policy that attendees can read when they give you their data.
Access our FREE Privacy Policy Generator here.
One of the things you need to become GDPR compliant is a privacy policy. We've saved you the hassle of getting a lawyer and making your own with our free customisable generator. It's designed specifically for event organisers to use (and, if you like it, why not share it with your event organiser friends?) Click here to access the free Privacy Policy Generator for event organisers.
Ticket Tailor CEO Jonny White had a few words to say about our latest side project:
"With the EU's GDPR regulations coming in to force soon we wanted to make the road to compliance easier for event organisers. It doesn't make sense for every organiser to pay a lawyer to draw them up a privacy policy. This tool allows them to create a policy for their organisation in minutes, absolutely free of charge."
All you have to do to get your policy is enter some basic information - such as your business name and how you collect and use data - and the generator does the rest.
On top of that, we've made it super easy to upload your privacy policy. As mentioned before, under the GDPR you must tell attendees why you're collecting their personal data and how you're using it. To get your shiny new privacy policy live you can now easily upload it to your online box office for attendees to view.
We've also been working hard behind the scenes taking further steps to make the change to GDPR compliance as smooth as possible.
To find out more about what we're doing to help you can visit our dedicated GDPR page here.
Get your custom free privacy policy using our generator for event organisers here.
Stay up-to-date with Ticket Tailor's GDPR compliance by clicking here.