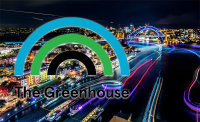 Planet Saving Tech: Virtual Reality and Augmented Reality
Virtual Reality, with it's origins in science fiction, the idea's been around since the 50's now but in the last few years, with the promise of mobile computing, it's suddenly the talk of the town.
Many are excited by the deep immersive nature and empathetic story telling potential of VR/AR and see huge opportunity in awareness raising and shifting public opinion around important issues.
So what is VR, and it's related technology cousin Augmented Reality, an is it a potential Planet Saving Technology?
Speakers and Panellists
Virtual Reality Experience
Thanks to our good friends at Academy Xi we'll have some HTC Vive headsets and live experiences to try at the event.
Make sure you get there early, if you'd like to try one of the VR headsets!
(We'll have the VR Headsets going from 5PM)
Food and Drinks
Drinks and light refreshments are provided, thanks to our sponsors & partners Future Super, EnergyLab & WWF.
Schedule
5:00pm: Doors open - Arrive early to try the VR experience
6:30pm: Keynote followed by moderated panel discussion and Q&A with the audience
8pm: Continue the discussion over drinks and light snacks,a and try the VR experiences.
9pm: Event concludes
The evening will begin with a half hour of mingling and networking. At 6:30pm the talks programme will begin with a keynote from . You will then be invited to join the speakers in Q&A style panel discussion. The talks and panel runs for approximatly 1hr. After the panel you are invited to continue the conversation and enjoy some drinks and light refreshments thanks to our sponsors & partners Future Super, EnergyLab & WWF.
Food and drink will be available thanks to our sponsors.
Venue
EnergyLab
Building 25, 4-12 Buckland St, Chippendale, NSW 2008
Tickets
(available from Ticket Tailor)
Early bird tickets available now (until a week before the event).
$25 Standard entry, $30 on the Door.