---
Buy tickets
Ticket Type
Price ($)
Fee ($)
Quantity
---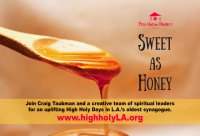 Yom Kippur Schedule
Kol Nidre, Friday 9/29
Doors Open: 7:30pm * Service: 8:0pm
Yom Kippur Day, Saturday, 9/30
Doors Open: 10:00am * Morning Service: 10:30am
Afternoon Program:
1:30pm = Gentle Yoga w/Zach Lasker
2:45pm = Finding Hope in Unexpected Places w/award winning filmmaker Aaron Wolf and Reverend Jaime Edwards-Acton
4:00pm = Neighborhood Care w/Jorge Alvarez
5:00pm = Great Start School Supply Drive w/Kim Cavallo & Robin Siegal
Neilah + Break-the- Fast at 6:00pm
The Sanctuary@ Pico Union Project
Four years ago we acquired the oldest synagogue in L.A. with a dream to create a multi-faith and cultural center. The Pico Union Project is now nationally recognized as a leading innovator, reimagining modern day Judaism.
If you are looking for a spiritual community for the Holy Days, join Craig Taubman and an exceptional team of artists, clergy and spiritual leaders for services that include:
Uplifting music with Chloe Pourmorady & Shanee Zamir
A little tradition, and a lot of spirit
Torah with Rabbis Scott Westle and Deborah Shuldenfrei
Teen program on Rosh Hashanah with Avram Mandel
Delicious food
Community service project
Intriguing conversation with Stu K. Robinson & Jason Chu
Single Passes now available for LA's spiritual, soulful, and sing-able New Year celebration. Please purchase from the category that keeps you in and us open, and consider adding an extra gift to sustain our work throughout the year. Need extra assistance? Contact us at 818-760-1077 or info@picounionproject.org.
The Sanctuary@ Pico Union Project is generously supported by the Jewish Community Foundation of Los Angeles.