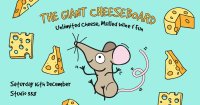 Tickets go on sale Wednesday 1st of November at 12pm!
This ticket grants you entry to the The Giant Cheese Board from 8pm-2am on Saturday 16th December.


🧀🧀🧀Calling all Cheese and Wine Lovers !🧀🧀🧀


Have you ever dreamed of being able to walk around a giant cheese board? Carving off slices of your favourite Emmantal, Red Leicester, Edam, Brie and every other cheese you can imagine? Surrounded by cheese, rolling around in cheese...eating so much ch...sorry, got carried away!


Well anyway, we have. Lots. So this Christmas we are going to make this a reality. A cheesy, melty, mulled wine-fueled reality. This is going to change your lives forever.


This December 16th, we bring London it's first ever Giant Cheese Board - where you can take as much cheese & mulled wine as you like all day long. Yes, thats unlimited cheese and mulled wine on a giant cheeseboard...and a party too.


We have taken over one of Londons very best venues for the occasion - the recently re-opened Studio 338 and will be turning their amazing Terrace into a massive, oversized cheese board. One you can walk around on as if you're in a giants kitchen. Yeah, we know....amazing huh! ??


Then at night, we turn this Cheese Fest into a party with some of London's best DJs coming down to play. Lots of pop cheese and anthems on the musical menu of course!


Tickets from just £30pp. Including:


🧀Unlimited Free Cheese Day & Night
🧀Free Mulled Wine Day and Night
🧀Loads of the worlds best guest cheese makers in da place
🧀Served by giant mice who will help you navigate the Cheese Board
🧀Special Guest DJs will be supplying the soundtrack for the night
🧀There will also be some CHEESECAKE for dessert too ;)
🧀Vegan options will be available also
🧀Full production set which allows you to walk around and party on a giant cheeseboard!
🧀 Christmas photo booth (say CHEESE obvs!)
🧀 Giant fireplace to snuggle by
🧀 3 areas of fun, music, cheese and wine to explore
Basically, think Honey i shrunk the kids...if they were lucky enough to find themselves in a cheese and wine heaven. With great music and loads of other beautiful cheese lovers to party with.


All tickets are non-refundable & non-transferable. This is an 18+ event.