---
Buy tickets
Ticket Type
Price (£)
Fee (£)
Quantity
---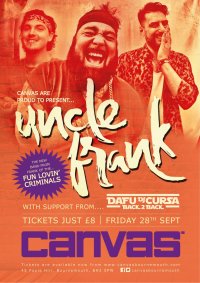 CANVAS VIRGINS UNCLE FRANK JOIN US FOR THIS RESCHEDULED SHOW. A NIGHT OF MAYHEM IS IN STORE FOR US HERE BEHIND THE BIG RED DOOR!
With National Radio airplay from BBC6 Music and BBC Radio 2 and A-listed on Regional Radio throughout the UK, Uncle Frank's star is rising with thrilling live shows throughout the UK, in particular with Craig Charles' Funk and Soul nights.
The albums lead single 'Love Lion' (which was a double A-side accompanied by the infectious 'Tokyo') follows on from 'Maximum Respect' and 'Fountains'.
Multi-instrumentalists and producers Frank Benbini & Naim Cortazzi are back with the explosive new album 'LOVE LION'.
"The world needs this kind of music - because it's real and self-made, feel-good and original."
The Daily Express
Tickets from £8 and it's more on the door.
*Please note set times are approximate. Over 18's only. Tickets non-refundable T&C's Apply.
Any questions? Email us at info@canvasbournemouth.com or call us direct on 01202 556113 (10am-6pm).