---
Buy Tickets
Ticket Type
Price ($)
Fee ($)
Quantity
---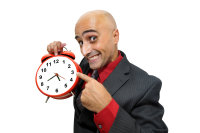 The latest blockbuster season of the Biggest Little Festival in the World opens on Thursday Feb 1 in a brand new venue and showcases the best Australian theatrical talent in a season of 120 original short works.
Tom Mann Theatre, 136 Chalmers St, Surry Hills is only 200 metres away from Central Station with loads of local parking (after 6pm) and easy access by bus or train.
Short+Sweet has spread the popular 10-minute format in theatre, dance, cabaret & comedy across Australia and around the globe with festivals as far afield as Hollywood, India, Malaysia, Dubai and NZ. The S+S Hollywood Festival is one of the world's go-to showcases for new talent on stage and screen. But the original Sydney Theatre Festival is now in its 17th year and has a new home in Surry Hills' Tom Mann Theatre.
Short+Sweet opens at the Tom Mann Theatre Theatre, 136 Chalmers St, Surry Hills on 1 Feb and runs through to April with both a Top 80 (Thur-Sat 7.30pm, Sun 6.30pm) and separate Wildcards program (Sat 3.30pm, Sun 2.30pm). The gala finals take place in April. Tickets are $25 Top 80 and $20 Wildcards + booking fee. More info, weekly program information is available at www.shortandsweet.org/sydney or email tickets@shortandsweet.org