---
Buy tickets
Ticket Type
Price ($)
Fee ($)
Quantity
---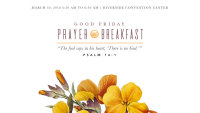 You are invited to join community leaders from the Inland Empire to gather for the 35th Annual Good Friday Prayer Breakfast. Our theme this year is "The fool says in his heart, 'There is no God'" from Psalm 14:1. Easter lands on April Fool's Day this year. Many today believe it's foolish to believe in God let alone the resurrection of Christ. That's why we invited apologist Dr. Sean McDowell (Evidence That Demands a Verdict/Biola University) to tangibly present the compelling historical evidence that Jesus existed, died, was buried, and rose again on the third day.
The prayer breakfast is returning to the Riverside Convention Center this year. In addition to hearing from Dr. McDowell, prayers from local pastors will be lifted up throughout the program. The program also includes musical performances by Michelle Cardenas and "Joy" - a small, choral group from California Baptist University. And of course a delicious breakfast as well as parking is included with the price of the ticket.
Please join us for an inspiring morning. This is a perfect opportunity to invite coworkers or friends who need hard questions answered about the Christian faith. And even if you already believe in the Risen Lord, this breakfast will encourage your heart as you gather with Christians from your community.
Organized by Riverside Life Services and Riverside Pastors Prayer Fellowship.
Doors open at 6:30 AM. Program begins at 7:00 AM. Book sales/signing at 8:30 AM.
Sponsors: Gordon and Jill Bourns, Stronghold Engineering, Provident Bank, Print Pro Plus, Chick-Fil-A Day Street