---
Buy tickets
Ticket Type
Price ($)
Fee ($)
Quantity
---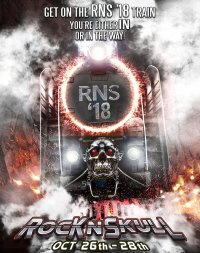 Rock N Skulls 2018,
Back for the 6th year! Can you believe that?
We Have a Crazy Line up this year, At a Exciting new Venue. We have had some changes made in the promotions of the event. Announcements will be made soon.
We Kick it off Fri Oct 26th with 3 day tickets getting you in all the shows. Fri Doors open at 5pm, Sat Noon, Sun 2pm.
Don't miss our pre party on Thursday Doors open at 6pm BE HERE!
General Ad 3 Day Pass $150.00
General Ad 1 Day pass $60.00
Pre Party $15.00
(No refunds)