IBM interviewed 1,500 CEOs in the public and private sectors across 60 nations. 60% of the respondents believe creativity is the most important quality to have in business, followed by integrity.
Data from The World Economic Forum predicts Critical Thinking, Creativity, and Co-ordinating With Others as being among the most in demand skills by 2020.

PwC interviewed 1,379 CEOs in 2017, almost a quarter see innovation as their top priority in the coming year. The challenge they face is how to cultivate it.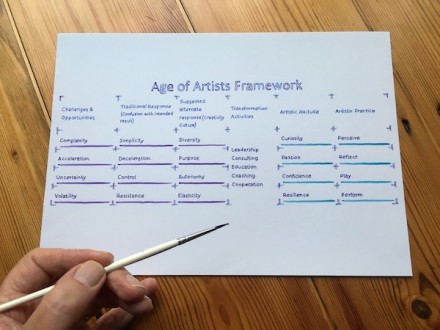 Join us on Thursday May 17th for a workshop focusing on what it means to develop and sustain a culture of creativity at work. We will explore The Age of Artists framework, an evolving model designed to help people and organisations use creative approaches to problem solving, and then apply some of that thinking using a range of practical activities. We will also share some simple creative tasks designed to aid reflective practice at work.
The event is designed and run by Stephanie Barnes and Doug Shaw, two experienced researchers and consultants in the field of artistic organisational development. Thanks to our hosts Herman Miller, we will have the opportunity to try out activities in a range of different workplace settings.
The morning session is a mix of theory, conversation, and practice. After lunch, you have the option to either head back to work, or continue experimenting with further creative activities beyond the workplace, as we move to some different locations in London.
All materials will be provided, morning and lunchtime refreshments are included courtesy of our generous hosts, Herman Miller. Doors open at 8:30am for a 9:00am start. We will work through until around 12.30pm (taking breaks as needed) then stop for lunch, before departing for the next stop on our journey at around 1.30pm. The afternoon activities should conclude by 4pm.
The whole event costs just £195 (£162.50 plus VAT) and is limited to 20 participants to help ensure everyone has an excellent experience.