---
Sold out
---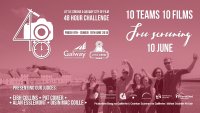 Come along to the second annual Little Cinema Galway & Galway City of Film 48 Hour Challenge! We will be screening fantastic films which were all produced, filmed and edited in Galway in an incredible 48 hours!
Each team will introduce their film on stage, and the winning film as picked by a team of judges will win €500 cash!
There will be a wine reception at the Town Hall from 6pm onwards, and doors to the screen open at 6:30pm.
Bring your ticket with you and present them to the Town Hall Staff and they will print you off a ticket for the show.
Tickets are valid until 6:45pm, at which point it will be open to the public and entry is on a first come first served basis.
We look forward to seeing you there, all are welcome!