---
Buy tickets
Ticket Type
Price (kr)
Fee (kr)
Quantity
---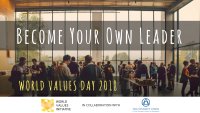 World Values Day is a full day of empowering talks and interactive workshops brought to you by World Values Initiative Lund. The purpose of the day is to create a space where you can explore who you are and what's truly important to you. We do this primarily through the use of personal values, but will also cover other important topics in the fields of personal development and positive psychology.
The theme for this year's day is self-leadership. One definition of self-leadership by Andrew Bryant is: "the practice of intentionally influencing your thinking, feeling and behaviors to achieve your objectives". In essence, it is knowing who you are, what you want, and how to get there. Our goal for this year's World Values Day is to help you get started on this path of self-leadership and give you a deeper understanding of all three steps of this process.
What does WVD look like? Here's the preliminary agenda for the day:
8:30 Drop-in and mingle with coffee
9:00 Introduction and check-in
9:30 Keynote speaker: Alexandra Skoglund
10:00 Workshop on Personal Values
12:00 Lunch
12:45 Workshop on Values and Goals
14:45 Fika Break
15:00 Keynote speaker: Stellan Nordahl
16:00 Summary and Check-out
16:15 Open space and mingle
Who is World Values Day for?
WVD is for anyone who has an interest in personal development or seeks to get a higher degree of clarity about who they are and what they want. It is open for both students and non-students and it doesn't matter if you already know a lot about personal development and self-leadership or if you are just starting your journey. There is something for everyone here!