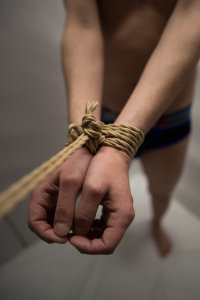 Chicago Rope's bottom-led education track continues in May with bottoming education co-facilitator Jei leading a class on Setting Intention from 12:30-2.
Then, in our second class from 2:30-4, Second City Kinbaku co-founder and Chicago Rope staff instructor StabStabStab leads a session on Communicative Scenes using a single rope.
Join us for one or both classes!
SCHEDULE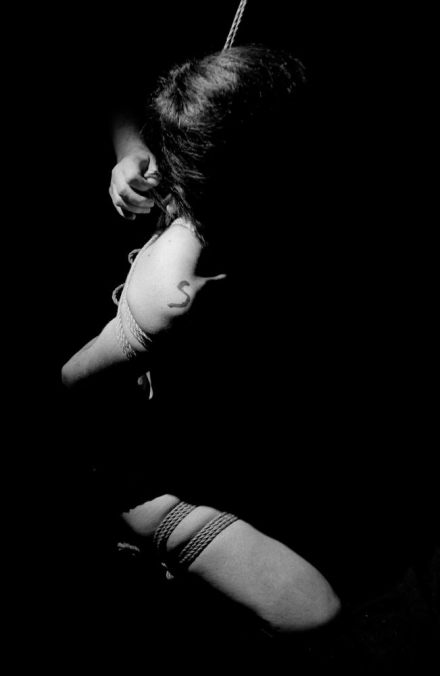 Setting Intention

with Jei
12:30-2pm
In this class, Jei will help us understand what we mean when we talk about "connection." Shifting our focus towards communication, we will learn about – and practice – the core values we need to build a good scene. We will learn language that will help us identify and talk about what we're looking for in a scene, and talk about what it means to tie with intention. Then, we will engage in exercises that help us watch, listen, and wait for our partners and give them the opportunity to give us feedback not only through their words, but also through their body language. We'll talk about how to use this feedback to make sure our intentions are coming across, and we will examine the process of learning how to communicate more clearly with both new and familiar tying partners. You will walk out of this class with more tools for setting intention during scenes, and ways to work towards achieving it.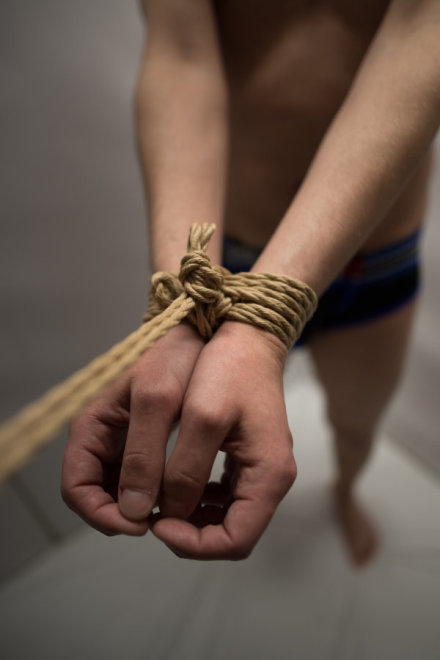 Crafting Communicative Scenes with One Rope
with StabStabStab
2:30-4pm
In this class, StabStabStab will show you how to use a single rope, two hands, and just a few simple building blocks to play with your partner, taking them through a wide range of sensations – from gentle and caressing all the way to rough and controlling. We'll cover an uncommon (but easy to learn) double column tie, 2-3 tying patterns, and a multitude of detailed movements and techniques that can make huge differences in your ability to communicate through rope. This class is designed for all levels.
PRICING
Single Class
At the Door: $15
Advance Purchase: $10
Both Classes
At the Door: $20
Advance Purchase: $15
All pricing is per person. As with all Chicago Rope events, we offer sliding scale payment options and volunteer opportunities for those who cannot afford to contribute financially. No one will be turned away for lack of funds. Please contact us in advance of the event to request sliding scale or to sign up to volunteer.
PRESENTERS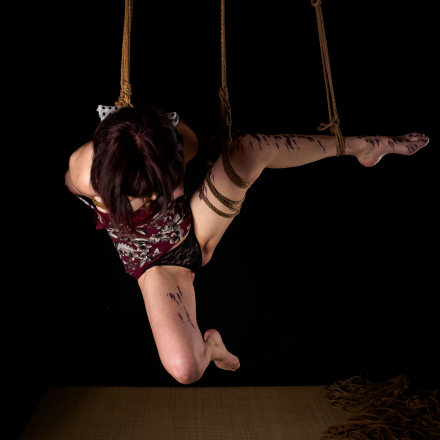 Jei
Jei has been in the rope community since 2012, traveling back and forth between Italy and Chicago. Her main wish is to help bottoms to take agency, and fully express their selves through rope bottoming. She co-facilitates Chicago Rope's bottom-led education track and is always trying to improve her own skills.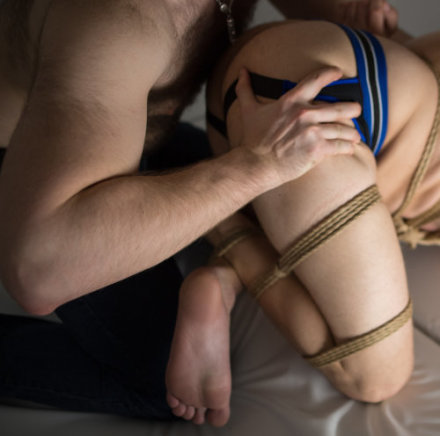 StabStabStab
StabStabStab is a pansexual switch who has been obsessed with Japanese Rope Bondage since 2013. In his classes, he aims to take complex, abstract topics like "connection," "rope handling," and "tension," and break them down into straightforward, concrete and learnable chunks. His goal is to impart to his students solid, safe technical foundations without losing sight of the communication that's always occurring between top and bottom. He's one of the founders of Second City Kinbaku and a staff instructor at Chicago Rope.
VENUE
This class will be held in our Wicker Park class venue, Outerspace Studios, directly above Volumes bookstore. The Damen blue line stop is very close to the studio. When you arrive, press the button for "Moon Studio" and you will be buzzed in. The studio is at the top of the stairs in the far back. The venue requires that shoes be removed at the top of the stairs prior to entering the studio.
Parking can be difficult in this neighborhood but often can be found on Milwaukee or on the streets surrounding the park. Sunday parking is free on Milwaukee. We recommend that those who are driving allow at least 15 minutes extra time to find parking.
Please note that Outerspace is not wheelchair accessible. Entering the studio requires ascending a long flight of stairs.
FAQ
Do I need a partner?
Most Chicago Rope classes are hands-on instruction designed for top-bottom pairs to practice together. However, we always welcome those who wish to attend solo, either to observe the class or to self-tie if possible. Note that many of our classes cover patterns that cannot easily be self-tied, and our instructors and TAs might not be able to provide extensive assistance on modifying patterns for self-tying. When we offer classes specifically geared towards self-tying, or that do not require partners, this will be clearly noted in the class description.
If you would like to find a class partner in advance, you can post in our Seeking Partnersthread. If you connect with a potential partner online, we encourage you to meet them in person prior to committing to working with them. One way to do this is at our monthly Rope Social. You can also meet potential class partners at the Social.
Do I need rope?
If you would like to tie (or self tie), you should bring your own rope. We will be offering rope for sale for those who need it.
Unless otherwise noted in the class description, we recommend at least three 8 meter (25-30 feet) lengths of natural fiber (jute or hemp) ropes of approximately 6mm (1/4 inch) diameter. If you choose to use synthetic ropes, be aware that some ties may need to be modified to suit your rope.
What else should I bring?
All Chicago Rope events are limited to those 18 years of age and older. In order to enter the space, we require that you bring a have a government issued ID (such as a driver's license or passport) verifying your age to be admitted.
We also suggest bringing a yoga mat or blanket to sit on. A water bottle is a pretty good idea as well.
What should I wear?
This event is open to the public, so participants must remain dressed legally for public spaces in Chicago. This means that while stripping off a restrictive layer or two is okay, getting completely naked is not. Wear something that is comfortable, fitted, and that you can move in. To comply with city laws and remain gender-neutral, Chicago Rope adheres to a slightly stricter policy of no exposed nipples for anyone. Pasties are acceptable. Please note that venue requires that shoes be removed before entering. We thank you for your cooperation.
Is this event wheelchair accessible?
No. Outerspace Studios is located up a long flight of stairs. There is no elevator available.
How do I use reduced cost and sliding scale payment options?
Chicago Rope does not offer reduced cost and sliding scale payments at the door on the day of the event. In order to request reduced cost or sliding scale, please contact us at least 24 hours in advance of the event. Let us know how much you are able to pay (even if it's $0.00) and whether you're willing to and able to volunteer. We'll be in touch and get you squared away to attend.
How can I get involved?
Chicago Rope is always looking for talented, dedicated individuals to join our organization. If you would like to be part of our team, fill out this form and our volunteer coordinator will follow up with you.