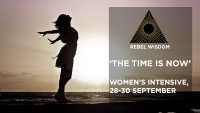 THIS WORKSHOP IS NOW FULL - TO BE ADDED TO WAITING LIST, PLEASE EMAIL: mailrebelwisdom@gmail.com
An evolutionary call for women's growth, 3 days of transformative work - with Turiya Hanover.
The time has come for us women to make an evolutionary leap into our full power and responsibility.
We are at an edge in society where the integration of mature feminine qualities is absolutely essential. Not only for the relationship between women and men, but for the values of our culture on which we base the future of humanity.
The time has come for us to evolve and become torch bearers of the true meaning of the deep feminine. To embody our feminine essence; our sensitivity, our wisdom, our ability for deep knowing, our connection to the collective, to the planet and to the powerful force of Life itself. Our ability to feel that life in our bodies, speak our truth and have an impact. We want to reawaken our senses, to 'clean our own houses' and ready them for a new way of connecting with ourselves - and with the masculine.
In today's world there is a lot of talk about the male 'shadow', and discussion of 'toxic' masculinity. But there is little talk about the female shadow - how we as women can act out of rage, or slip into victimhood or manipulation. It is only by acknowledging and integrating our shadow disowned and denied parts that we can become whole. In this workshops we will turn our shadows into fuel for our lives and stand in our wholeness as women. Accessing our full power.
It is therefore also time to heal and transcend the age-old antagonism between the sexes. The #metoo movement has created an important global awareness and an urgent call for change. At the same time, we want to be aware of the simplistic narrative of women as only victims and men as solely perpetrators, which leaves both genders disempowered.
This journey into the joy of womanhood is equally a journey out of frozenness and numbness. We want to feel alive in our bodies, and learn how to respect our bodies as a powerful source of knowing. To be able to set up boundaries when needed and speak the truth of our experience.
The retreat will be playful, experiential and deeply transformative. We will be sharing the same space for 3 days and 2 nights, creating a strong feminine healing vortex, enabling you to:
Examine your inner feminine and inner masculine, revealing both their shadows and their gifts.
Embrace the unhealed wounds that you are projecting onto your intimate relationships.
Find new levels of appreciation for the wisdom and power of your body.
Experience a deeper state of embodiment and consciousness, from which you can celebrate your identity as a woman.
Connect to the deep feminine, so that you're ready to connect with the deep masculine.
Know how to bring your incredible gifts as a woman to the world in an impactful way.
The standard ticket price includes all meals and shared, dormitory-style accommodation (sleeping mats and sleeping bags). For those who wish to have a private room, there are some available to book.

About Turiya Hanover:
"My work is transforming old rigid ego patterns into experiences of joy, acceptance and life affirmation"
Turiya has been working with people for over four decades, and is trained in many different modalities such as Gestalt, Bioenergetics, Psychodrama, Family Therapy (V. Satir), NLP, Hypnosis, Somatic Experiencing™ (Peter Levine), Ego Psychology, Family Constellation, Enneagram and Astrology and Essence Work.
Today she is the founder of an intensive called 'Path of Love' together with Rafia Morgan. They also lead a yearlong training for therapists called 'Working with People'.