---
Buy tickets
Ticket Type
Price (kr)
Fee (kr)
Quantity
---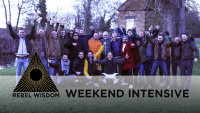 This is Rebel Wisdom's first weekend intensive outside the UK, and will be the only men's workshop led by legendary facilitatator Rafia Morgan this year.
Men are being challenged like never before to grow up and show up in the world. Rebel Wisdom's weekend intensives are designed to help us evolve to a new vision of masculinity, a relaxed confidence that is secure and in service to the world.
Join Rebel Wisdom for a deep transformational weekend of brotherhood and expansion. Using movement, inquiry and deep experiential processes, this workshop helps men to grow up and show up in the world in order to achieve their purpose. Our workshops are designed to give a direct experience of integrating the 'shadow' – to integrate the repressed and denied aspects of ourselves to become more present and powerful in the world.
This is a residential workshop for men starting Friday evening and concluding late Sunday afternoon.
See this video for testimonials from previous participants.
The course fee is 2800 SEK, and the food and accommodation cost is 1700 SEK - total cost 4500 SEK. (UK approx: £375). There is also an option to pay a deposit of 1,000 SEK, with the balance due two weeks before the event.
Facilitatators include Rafia Morgan, David Fuller, Alexander Beiner and Paal Buntz.
For more details, check: http://rebelwisdom.co.uk/