---
Buy tickets
Ticket Type
Price (£)
Fee (£)
Quantity
---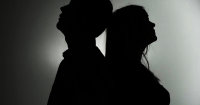 The #metoo upheaval laid bare some appalling behaviour and was a liberation for many, it also uncovered simmering tensions between the sexes. After this watershed moment, what now?
It revealed what could be described as the male 'shadow'.... Many feel there is a gulf between the sexes and communication has become harder than ever. With the male shadow brought into the light where it belongs, the challenge for men is to integrate and move beyond.
Rebel Wisdom is founded on the belief that the tensions between the sexes are calling us to grow towards a more healthy masculinity and femininity. A recent conversation about this between psychologist Louise Mazanti and Rebel Wisdom founder David Fuller racked up over half a million views and many polarised reactions.
During this evening experience we will explore what is the healthy masculine, what is the healthy feminine, and what are the respective shadows we each need to take responsibility for in order to truly meet each other. Can we have conversations from a deeper place where both men and women feel heard? David Fuller and Louise Mazanti will attempt to hold an evolutionary conversation, with help from legendary facilitator Rafia Morgan.
An evolutionary inquiry means to come from a place of genuine openness, reflection and learning. We ask all those who come to agree to those principles.
Rebel Wisdom makes films about the deepest subjects, and also runs workshops for men and for women to enable us to evolve. http://rebelwisdom.co.uk/