---
Buy tickets
Ticket Type
Price (£)
Fee (£)
Quantity
---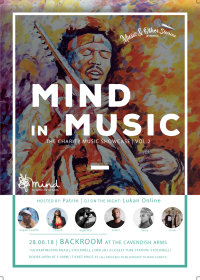 Music & Other Stories is a platform which promotes unsigned and independent talent. What started out as a normal music blog now developed into a series of events - not just normal events though. For my showcases I want to donate the proceeds of the night to a charity of my choice.
After a very successful launch on April 12th 2018 I now have set the date for volume 2, Mind In Music. This event will be dedicated to the registered charity MIND which provides help for those who struggle with Mental Health. Mental Health is a very important issue yet sadly it isn't spoken up about enough as many struggle to speak up about their demons and anxious feelings inside. You never know what someone is going through, and those who struggle with Mental Health should know that they're never alone. With this event I want to raise awareness and combine it with my passion with music.
The night showcases six incredible artists
- Cheryll
- Lemzi
- Tonia
- Dvtn
... All those boast with unbelievable talent and will without a doubt captivate you with their compelling rap flow or smooth and velvety R&B vocals.
The DJ of the night will be DJ Lukan Online (DejaVu FM, OnTop FM) and the host, who will undoubtably be the funniest and most engaging host you will have seen, is Patrin who also is an artist himself.
Tickets are £5 and will also be available on the door.
Entry: 7.30 pm
28th June 2018 at The Cavendish Arms