---
Register to compete
Ticket Type
Price (£)
Fee (£)
Quantity
---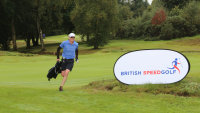 Event registration - The British Open Speedgolf Championships 2018
One of the most unique events in the British Golfing calendar, welcome to a faster pace of golf; Speedgolf.
For more information see the British Speedgolf Website page
The first individual to tee off is expected at approximately 8.20 am and a schedule of tee timings will be sent out prior to the event, but these could be subject to change on the day so competitors should arrive at least an hour prior to their tee time. We encourage all competitors to attend the Championship prize giving, following an event group photo.The event will finish around 2.30pm after the final competitors have completed their round and results are finalised presentation will be prompt.
Places are limited so continue your booking NOW to secure your entry. Please note there is NO prize purse for this championship, trophies and bragging rights only. Tickets are non-refundable, please read the terms and conditions.