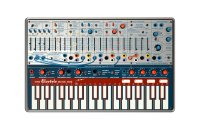 Modular Synthesis Workshop using Buchla Music Easel by Stevie Richards
Saturday 2 June 11am | £25 BUY TICKETS (fees applies)


2 x 45mins – Workshop will run from 11am-1pm.

The Workshop, although performed on Buchla Music Easel is applicable to all hardware in the Modular
Synthesis world and will hopefully help give you confidence and a deeper understanding of your instrument and it's application in recording and live performance contexts.
Participants at all skill levels are welcomed. (We all have to start somewhere!)


The Workshop is in two parts:
Part 1 – Buchla Music Easel Basics – focusing on the Stored Program Sound Source – Model 208
In this part of the Workshop, we will look at the separate function blocks of the 208 and explain their application within the Music Easel and in Modular Synthesis in general.
This will include:
Music Easel colour code concept.
Explanation of the idea of Signal Path.
Getting your first sound on the Easel.
Different sections of the Easel – their functions and interactions.
Patching and use of CV – Sequencing, Gates, Timbre, Modulation.
11:45am Break : 15mins
——————————————————————————————
Part 2 – Focusing on the use of the Touch Activated Voltage Source – Model 218
How to allow 208 to receive note information from the 218
——————————————————————————————
Stevie Richards

Stevie Richards is a Modular Synth Improviser and Saxophonist based in Melbourne , Australia.
After retiring from full time work at age 18 and dedicating his life to being a lifetime musician, he was part of the 80's Independent scene in Sydney, where he developed an appreciation for improvisation and electronic music.
He has played for many years across Australia , USA , Europe and South East Asia working in many musical genres including : Noise , Free Jazz , Ambient, Electroacoustic and many more.
His 2014 tour of Europe and USA featured DIY Serge Modular synth and collaborations performances with Ben Vida , Nicola Ratti, E-Da (ex Boredoms) as well as many solo performances. He played at Cave 12 in Geneva , Noodlebar in Rotterdam, DA Centre for the Arts in LA , Control Voltage in Seattle and many other venues across US and Europe.

He toured Europe and USA again in May 2017 making return visits to Luggage Store in SF with a trio he established there in 2014 with Shanna Sordahl and Robert Lopez, also playing Coaxial in LA, Turn in Portland and performed live to air on Portland Radio station XRAY FM. In Europe he made return visits to Noodlebar in Rotterdam and established new connections in the London Free Jazz Scene playing with several projects in the SKRONK event schedule.

Stevie has been involved with Make It Up Club (the worlds longest running weekly night of avant garde and improvised musical performance) in Melbourne for over 16 years as committee member and Sound Engineer.
Seven years ago, he began to build DIY Analog Synthesizers , which he now performs on regularly in solo and ensemble contexts on DIY Buchla Music Easel and DIY Serge Modular.

Outside of playing music he is busy developing skills in Audio Production and tutoring Ableton Live to disabled young people in Melbourne , Australia.
https://cleaninglady.bandcamp.com/