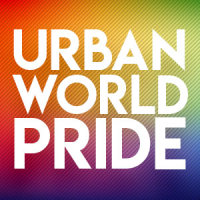 URBAN WORLD is proud to host their 6th annual celebration of UNITY, DIVERSITY and PRIDE on the night of 'Pride In London' at the Scala multiplex in King's Cross on Saturday 7th July 2018.
URBAN WORLD PRIDE 2018 offers guests a unique choice of sounds ranging from URBAN, DESI & HOUSE as well as a fresh, friendly and diverse crowd from all cultures, race and ages; there is no other club that passionately promotes diversity in the UK quite like we do.
URBAN WORLD welcomes back the cream of the UK's URBAN & WORLD LGBTQ club brands: BOOTYLICIOUS, URBAN DESI, WORK, QUEER NATION, LUSH, JUICE & PHAT CLUB. In addition, there are up to 20 of the UK's celebrated DJs, MCs & Hosts. We also have a FREE Pride face-painting station, Bhindi give-aways and UV face painting to spice up your Pride night.
---
MAIN: URBAN
Featuring BOOTYLICIOUS, WORK, LUSH & JUICE
RNB / BASHMENT / HIP-HOP / SOCA / AFROBEATS
DJs include Big John Freeman, Biggy C & Tayylor Made; MCs include Mad-x & Tyron; HOSTED BY include Smoochie & Kingsley
---
ATTIC: DESI
Featuring URBAN DESI
BHANGRA / BOLLYWOOD / DESI BEATS / POP
DJs include Qu & Ammo; HOSTED BY Rezzia Irani & Zara Baloch
---
FOYER: URBAN HOUSE
Featuring QUEER NATION
SOULFUL HOUSE / TECH / UK GARAGE / UK FUNKY
DJs 2Traxx, Clington & Sticky Fingerz / HOSTED BY Yusuf Leo Rajab
---
GLASS: LOUNGE
A haven of glamour offering VIP table service with unrivalled views and sounds of the main urban room. HOSTED BY Sammi
---
VIP TABLES
VIP tables available in the ATTIC (Desi) & GLASS BAR (Urban) rooms. Prices start from £180 for tables of 6 which include VVIP entry and escort, valet cloakroom service, bottle of bubbly, 6 shots & table service. Email us on info@ubnwld.com for more information.
---
DOOR

Last Entry is 3am / Strictly 18+ / ID may be required if you look under 30 years of age / MRRA / Urban World is an event for the LGBTQ community and their allies' / LGBTQ stands for Lesbian, Gay, Bi-sexual, Transgender, Queer.
---
FURTHER INFO
FACEBOOK www.facebook.com/ubnwld
INSTAGRAM www.instagram.com/ubnwld
EMAIL info@ubnwld.com