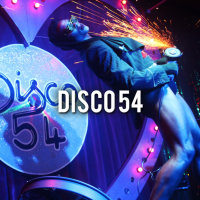 SATURDAY 21ST JULY- DISCO 54: SUMMER DAZE
TIMES: 9PM UNTIL 2AM
COST:
ADV 1ST RELEASE £6 // ADV 2ND RELEASE £7
ON THE DOOR £6 B4 10PM / £8 B4 11PM /£10 AFTER
///////////////////////////////////////////////////////////////////////////////////////////////
The dark days are gone and the bright days are here....SUMMER is in full swing...We know EVERYBODY LOVES THE SUNSHINE, GET READY TO FEEL THE DISCO HEAT!!
Dreamgirls and rollerboys follow the call! Join us on SATURDAY 16TH JUNE to bask in the shimmering rays of our mirrorball!!
Expect all the usual
GLITTER, GLAMOUR, GREAT MUSIC + GOOD TIMES!
Throw on your be-glittered bikinis, dowse that beard in sparkles and get ready to DIVE IN! We're bringing you another dose of
DELECTABLE DISCO GOODNESS + HOT 'N' HEAVY, SUMMERTIME FUN!
Move your feet, Feel the beat, We're gonna be dancin' in the disco heat!
Jaws to the floor! Our LIVE ACTS will sprinkle their stardust under the mirrorball + leave you screamin' for more! more! MORE! From avante-garde performance art + dazzling divas to VOGUE-TASTIC live acts, lights, lazers + magic. Disco 54 always delivers the goods!
DJ 'GLITTERBALL' GEOFF LEONARD will spin a sweltering hot ALL VINYL set of irresistible and addictive Disco hits!Expect a heady mix of exotic beats, rare grooves, ice-melting melodies, Manhattan boogies and blaring trumpets 'n' bass. The spirit of Studio 54 lives on!
DRESS TO IMPRESS
Think Studio 54 style, Bowie self expression, Grace Jones glam, Bikini-clad roller babes, poolside sparkles, all over glitter, Totally tropical turbans, disco pants, sequined swimwear, + sultry shades!
Don your fanciest dress - but please no plastic fancy dressLeave your Car wash wigs + flares at the door- You're so much better than that!