---
Buy tickets
Ticket Type
Price ($)
Fee ($)
Quantity
---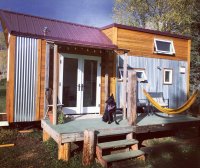 Learn how to build a green and healthy tiny home with The Healthy Tiny House Kit!
We'll cover:
Types of insulation and their characteristics and impact on the earth and you.
Exterior water resistive barriers and moisture condensation risk control (A popular topic!)
Indoor Air Quality, Sleep, and Reducing Humidity (Like under your bed)
Learn why we've taken the time to bundle it all up for Builders and Owners all over the World #TheHealthyTinyHouseKit
We will demonstrate how to properly install a Window/Door and build with materials that will make your home function better in all climates, while mitigating mold issues that plague tiny homes. We will teach about creating a fully sealed wall system that also allows moisture to escape and the importance of continuous filtered fresh air ventilation (IAQ).
Isabelle Nagel-Brice of A Tiny Good Thing and Cody Farmer of MainStream Corporation will teach you how to build a high performing and chemical free tiny home. Come ready with building science questions for the discussion at the end! Find The Healthy Tiny House Kit at www.atinygoodthing.com