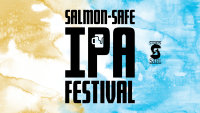 ***SESSION 02 ONLINE TICKETS ARE SOLD OUT*** We will have 30 tickets available for walk-ins on the day of the event.
On August 25th, Hopworks Urban Brewery (HUB) presents the inaugural Salmon-Safe IPA Festival. The first beer festival of it's kind, invites 20+ breweries to make special beers with Salmon-Safe certified ingredients, which means each beer's ingredients come from farms that are committed to protecting clean water in regional watersheds. The Salmon-Safe IPA Fest is all about showcasing ways breweries and farmers can work together to keep our waterways and our planet healthy. Attendees will enjoy delicious beers from craft breweries ranging from some of the largest in the country to some of the smallest, and from some of the most established breweries to some of the newer breweries in the region.
The festival will be divided into two sessions. The first is an all ages session that runs from 12-4pm and Session #2 is 21+ and runs from 5-9pm. Each ticket package costs $25 and comes with 10 drink tickets, an order of HUB's world-famous pretzels, a HUB 10th anniversary chalice and a raffle ticket for prizes from various Salmon-Safe certified businesses. The festival also invites attendees to enjoy music, food, lawn games, and art. Each session has only 400 tickets available and the event is expected to sell out, so make sure you grab your ticket in advance.
In between the two sessions, from 4-5pm, there will be short panel discussions with some of Salmon-Safe's leading movers and shakers in the beer industry and beyond. These farmers, suppliers, and businesses will talk about what Salmon-Safe means for them and why it's important. Seating for the panel talks are limited to 100 tickets and cost $5 each.
Proceeds from the event will benefit Salmon-Safe, an environmental nonprofit based in the Pacific Northwest.
FESTIVAL SESSIONS:
Session #1: 12-4pm

Panel Talks: 4-5pm

Session #2: 5-9pm
FESTIVAL PRICING:
FESTIVAL PACKAGE INCLUDES:
Special anniversary glass chalice

10 drink tickets - 4oz. pours

An Order of HUB's world-famous pretzels

Raffle ticket
THE BEERS:
Aslan Brewing - Organic Fish Have Feelings IPA.
An IPA brewed to help raise awareness for our fish friends facing growing dangers to their natural habitats. The combination of Salmon-Safe Azacca, Citra and Mosaic hops make this beer a pungently dank juice bomb. 7.2%
Baerlic Brewing - Grass is Greener IPA.
They say the grass is always greener…and with a big nose of fruit punch & orange peel laid over flavors of dank pine and spring flowers, it's soo true. Brewed with Centennial, Jarrylo and Meridian hops from our good pals at Crosby Hop Farm. 6.2%
Bale Breaker Brewing - Chumdog Millionaire IPA.
Hazy IPA brewed with Simcoe, Amarillo, Azacca, and Chinook hops from Roy Farms and malt from Mainstem Malt. 6.5%
Breakside Brewery - Cascade Lox.
An English-ish style Session IPA designed and brewed by our QA manager Greg Soto. We love getting all of our staff involved in designing and brewing our beers. Athena English Pale, Pilsner, and Walla Walla Hard Red Light Munich malt from Mainstem Malt. Mt. Hood, Cascade, and Amarillo hops all come from Crosby Hop Farm.
Crux Fermentation Project - Three Streams Brut IPA.
We squeezed all the juicy, citrusy goodness out of two classic hops we've all come to know and love but kept the bitterness at bay, letting the light shine through its malty bedrock. Brewed with Centennial & Cascade Hops from Goschie Farms and Pilsner Malt from Mainstem Malt. 6%
Culmination Brewing - The Final Cut.
Hazy IPA with notes of Citrus, Dank, and Resin. Chinook, Centennial, and Cascade from Crosby Hop Farm. 7.1%
Deschutes Brewery - Moonlight Run IPA.
A classic English IPA brewed with a rich, crisp and complex malt profile and a medium body. Nugget, Tettnang and Crystal hops deliver citrus notes with subtle herbal flavors and a delicate floral aroma. Salmon-Safe hops from Crosby and Tettnang from Goschie Farms. 6%
Ex Novo Brewing - Salmon Ella
IPA brewed with Mainstem Malt. Citra, Azacca, and Ella hops from Crosby Hop Farm. 6%
Fort George Brewery - Rite of Passage
West Coast IPA brewed with Mainstem Athena Pilsner and Hard Red Light Munich, Meridian Hops, Strata Hops, and Idaho 7 Hops. 7.5%
Fremont Brewing - Certified
IPA brewed with all organic hops and local malts. All ingredients are Salmon Safe certified, including Athena 2-Row Pilsner & Genie Barley from the Johns Ranch farm in Athena, OR and Walla Walla, Soft White Pale & 102 Wheat from H.T. REA Farming in Walla Walla, WA. Hops are organic Mosaic/Ekuanot blend from Cowiche Valley outside of Yakima, WA. 6.5%
Gigantic Brewing - HopLips
Our HopLips Session IPA is brewed with delicious and juicy Simcoe, Crystal and Brewers Gold hops from Sodbuster Farms and Loftus Ranches. 5.5%
Hopworks Urban Brewery - Fresh Hop Goschie Estate Pilsner
Pilsner brewed with Crystal hops and aged on fresh Hallertauer Abiqua hops. The hops and Lyon 2-Row malt all come from a single estate, Goschie Farms in Silverton, Oregon.
Hopworks Urban Brewery - Willamette Meridian IPA
The original "Willamette Meridian" was established as a guide for the early Oregon settlers populating this territory. Our version, in beer form, is a guide to using Salmon-Safe ingredients to create the beverage that so many of us enjoy in the Pacific Northwest. We used grain grown in Walla Walla Washington and dosed it with generous amounts of Salmon-Safe Crystal, Azacca, Meridian and Willamette hops. 6.5%
Loowit Brewing - Steelhead Reserve IPA
Floral and Citrus notes abound in this IPA that is as refreshing as a swim upstream. Chinook, Centennial, Willamette, Columbus and Amarillo hops spawn a unique bouquet. Hops come from Indie Hops and Crosby Hop Farm. 5.7%
Matchless Brewing - Area 13
Salmon Safe DIPA with Crosby hops and Mainstem Malt. 8.5%
New Belgium Brewing - NBB Salmon-Safe IPA
IPA with Mainstem Malt and Nugget, Strata, Columbus, and Azacca hops from Goschie Farms and Roy Farms. 7%
Quirk Brewing - Bigger on the Inside IPA
This IPA incorporates the full, nutty malt flavor of Mainstem Genie Pale malt with a blend of Azacca, Amarillo, Centennial and Crystal hops from Crosby Hop Farm for a delicious aroma of Pineapple and Citrus. 6.5%
Sierra Nevada Brewing - Lemon Drop IPA
Citrus forward IPA brewed with lemon peel and salmon safe ingredients. Brewed with Mainstem Pale Malt grown in Walla Walla and hops from Crosby Hop Farm & Yakima Chief Hops. 6.4%
Stoup Brewing - Fish Dancer IPA
This NW style IPA has a light, malt base. The beer is bittered with Bravo, whirl-pooled with Mosaic and dry-hopped with Experimental Hop HBC-692 & Citra for a burst of fruity, tropical, hoppy goodness. Our Salmon Dancer IPA is inspired by the Columbia River which connects to the rivers & tributaries feeding the WA & OR farms where our 100% Certified Salmon-safe ingredients were sourced. 7.5%
Trap Door Brewing - Funk the Jewels
Hazy Farmhouse IPA with Amarillo, Azacca and Centennial Hops from Crosby Hop Farm. 6.8%
Widmer Brothers - Hooks and Spillways IPA
The Widmer Brothers Innovation Team brewed up a 10 barrel batch utilizing ingredients from some of our favorite Salmon-Safe partners. 100% Mainstem pilsner malt from Goschie Farms, and three hop varietals (Azacca, Columbus, and Experimental Hop #527) from Roy Farms. 6.2%
Worthy Brewing - Call of the Wild
Lemon & lime citrus hop aromas meet with biscuit and sweet wheat flavors in this highly attenuated brew. The malt all comes from Mainstem and the beer is dry-hopped with Chinook and Cascade hops from Indie Hops and Azacca from Roy Farms. 5.8%
Yachats Brewing - Huntress
Pink Guava IPA with hops from Crosby Hop Farm. 6.2%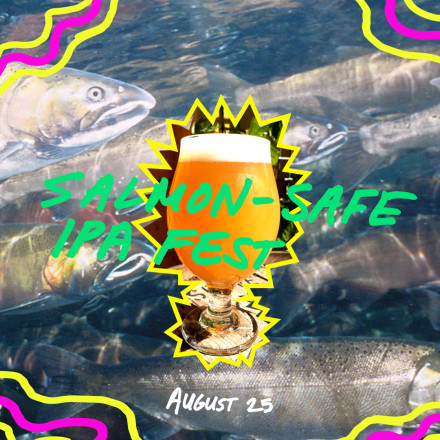 PARKING:
Hopworks Urban Brewery is closing down their parking lot for this event so there will be no on-site parking for festival attendees. Our friends at Trillium Family Services have made their parking lot available to Salmon-Safe Attendees - it is a 6 minute walk from the event (see map below). Any on-site parking must be available to guests of the restaurant only. Please take this into consideration and park on one of the nearby streets or at the Trillium lot. We encourage everyone to bike in, caravan or take public transportation if possible. Axiom Event Productions will be providing plenty of bike parking for the event. There is a pedestrian and bike crossing at Powell Blvd. on 28th St. as part of the city's new 20's Bikeway project.

Trillium Family Services - 3415 SE Powell Blvd, Portland, OR 97202

WANT TO VOLUNTEER:
Our event wouldn't be possible without the help of 50 or so amazing volunteers! If you would like to help out please sign up here.
SCHEDULE:
12pm - Doors open for all ages entry. Music, food, and games begin

3pm - Raffle in warehouse

3:30pm - Last call for all ages entry time

4pm - All-ages entry time closes, all attendees must exit

4-5pm- Panel discussion in warehouse

5pm - Doors open for 21+ entry. Music, food, and games begin

8pm - Raffle in warehouse

8:30pm - Last call for 21+ entry time

9pm - End of event. Thank you for coming!
THANK YOU SPONSORS: