---
Buy tickets
Ticket Type
Price ($)
Fee ($)
Quantity
---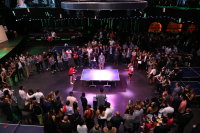 IT'S ON - FRIDAY, SEPTEMBER 28, 2018 @ REBEL!
6:30 pm - Doors open, Tournament players arrive
7:30 pm - Tournament Starts
9:00 pm - After-party Starts
---
We started our Smashed Charity Ping Pong Tourney 7 years ago to bring friends together to enjoy a little ping pong, and most importantly give back to our community. So far, with your generous help, we've raised over $1MILLION for some very deserving charities such as Lifeline, Free the Children, Make-a-Wish and SickKids Foundation to name a few.
This year, we're serving it up in style with BAD & BOUJEE everything, so we're looking for YOU to step up YOUR game and help us SMASH last year's $350,000 record.
GET YOUR TICKETS EARLY, WORK ON THAT TOPSPIN, AND GET READY FOR THE BEST ANNUAL CHARITY EVENT IN THE CITY!

Thank you in advance for your continuous support!
Sincerely,
Fabrizio Cortellucci & Brian Brown
Chairs of Smashed Charity Ping Pong
and
Natalie Chu, Anastasia Testani and Stephanie Ceccanese
Committee Members of Smashed Charity Ping Pong