---
Buy tickets / Join the guestlist
Ticket Type
Price (£)
Fee (£)
Quantity
---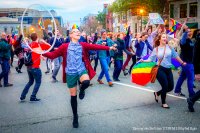 Utopian Acts is a one-day festival and conference exploring and challenging the idea of utopia in activism, art, and academia. We don't think utopia is worthless or oppressive, but we know that we need more conversations, provocations, and collaborations between different kinds of people before we can achieve it.
Events will include workshops, academic papers, interactive artwork, a film screening, a live comedy set, and a feminist punk rock show.
Entry to the entire festival is free and open to everyone, but please get a ticket so we can better estimate attendance. The venues are fully accessible. Solidarity tickets are available for £5 for those who wish to help support the labour of our presenters. If you are in non-precarious full-time employment, we ask you to purchase a £10 ticket, the proceeds from which will also go to our presenters.
If you would like to attend the Art of Listening workshop from 9-10am, on learning utopian ways of listening to and communicating disclosure, please register for that workshop here. All other workshops will be walk-in on the day.
For more details please visit our Facebook page and website.
We are very grateful for the support of the Birkbeck Institute for the Humanities and Centre for Contemporary Literature.