---
Buy tickets
Ticket Type
Price ($)
Fee ($)
Quantity
---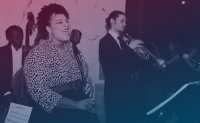 ** Please only purchase one ticket per order. If you are ordering tickets for other people, please fill out a form for each person and do not buy multiple tickets so we have a name for each ticket. If you are ordering for someone else, please put their name in the specified field on the order form. Thank you for your cooperation! **
AW, SNAP! THE BLUES IS BACK!
Part blues festival, part dance party, part family reunion; HCBX is proud to be celebrating it's 9th year! And whether you've been joining us for years, or are new to dancing, we would love to invite YOU to our special Blues thang. We are Holy City Blues – and Blues is how we do.
COME EXPERIENCE THE BLUES!
Join us in beautiful Charleston, SC as we celebrate the joy of Blues! We are happy to bring together musicians, dancers, and friends from across the Southeast and beyond to commence a weekend of hot, fierce, soul shaken' music!
Visit holycityblues.com for schedule of events and locations.
Follow us on Facebook here to get notified when we post new events!
Can't wait to see you there!