---
Buy tickets
Ticket Type
Price (£)
Fee (£)
Quantity
---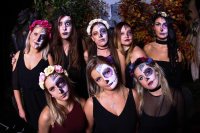 For Halloween this year we are doing Day of the Dead
We'll be infusing the Church, carnival, theatre, DJ, live music and unadulterated partying to bring you a day of the dead like no other.
Dress up, don't dress up, dress up in Halloween or Day of the Dead. We're not here to tell you what to wear. Come as you are, be comfortable, laugh, dance, sing. We are not your typical, we don't abide by the rules, The Church is one of a kind and so is our loyal congregation!!
Doors open 2PM
The Church Show 3PM
Live music from 6PM
Free drink must be taken before 4PM
Let the sin begin!!