---
Choose your workshop!
Ticket Type
Price ($)
Fee ($)
Quantity
---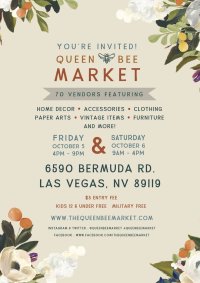 These tickets are for a series of workshops being offered DURING the Queen Bee Market Las Vegas at the same venue. Admission to the market itself is NOT included in the tickets price.  It is $5 at the door.  Select one, or more, workshops from the drop down menu to purchase. The following are the options:
Blessed Little Bird Stamped Jewelry - Learn how to hand stamp your own jewelry! Learn the basics of metal stamping, creating your own, one of a kind necklace, including one stamped pendant, charm and bead. All supplies provided for use during class. Classes are offered from 4:30-5:30pm on Friday Oct 5th or 9-10am Saturday and 1:15-2:15 Oct 6th. Cost is $40.
Chalk Couture - This class includes one super cute new Chalk Couture surfaces, a transfer, a squeegee & a sample of chalk paste to create one sign. (That's a screaming deal!). Classes are offered from 6:30-7:30pm on Friday and 2:30-3:30 on Saturday. Cost is $25.

Roseholm & Co - An introduction to hand lettering using modern techniques with brush pens. You will go home with a lettering handbook and pens. The class is offered from 11-12pm on Saturday. Cost is $35

Corks 'n Crafts - Two choices for classes by CorksnCrafts. The Friday classes are Modern Macrame Wreath.  Join us as we walk you through the steps of creating your own beautiful fall decor. Participants will be making a modern macrame wreath garnished with seasonal floral elements. The Saturday class is Succulent Pumpkins.  Kick off the holidays with this modern succulent pumpkin workshop. Participants will be painting and decorating modern "real" pumpkins, and hollowing/filling them with a beautiful felt succulent arrangement. Classes offered Friday from 5:15-6:15pm, 7:45-8:45 and Saturday from 12:10-1:10. Cost is $40.