---
Buy tickets
Ticket Type
Price (£)
Fee (£)
Quantity
---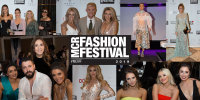 MCR Fashion Festival is back this October with even more Fashion, Style and VIP's! 
Tickets include: Fashion Shows from Manchester's top designers, a three-course meal from award winning chef and his team at The Hilton Manchester Deansgate plus Live Entertainment.
To be kept up to date with the latest news and find out who will be joining us this year, join our mailing list here: https://realpr.us18.list-manag...

MCRFF Website / Further info: https://mcrff.com| info@mcrff.com


GOLD TICKET ENTITLES YOU TO THE FOLLOWING:
2 x Drinks on Arrival
3-Course Meal
Premium drinks package on the table.
Live Entertainment 
Fashion Shows
Priority Seating after the MCRFF sponsors
VIP Goody Bag
Access to VIP After Party

*Full Page advert in the MCR Fashion Festival Brochure
*Complimentary bottle of Fizz 
*Welcome by the celebrity compare
(*Available only when booking a table of 10 ticket)


SILVER TICKET ENTITLES YOU TO THE FOLLOWING:
2 x Drinks on Arrival
3-Course Meal
Live Entertainment 
Fashion Shows 
Priority Seating after Gold
Access to VIP After Party 
Goody Bag
*Half Page advert in the MCRFF Brochure for your business 
*Welcome by the celebrity compare 
*Complimentary bottle of Fizz 
(*Available only when booking a table of 10 ticket)



BRONZE TICKET ENTITLES YOU TO THE FOLLOWING:
2 x Drinks on Arrival
3-Course Dinner
Live Entertainment 
Fashion Shows
Goody Bag
Access to VIP After Party 
(*Available only when booking a table of 10 ticket)


Last year's MCRFF October 2018: