---
Buy tickets
Ticket Type
Price (£)
Fee (£)
Quantity
---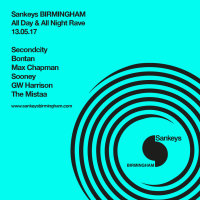 Secondcity
Bontan
Max Chapman
Sooney
GW Harrison
The Mistaa

FIRST RELEASE SOLD OUT IN JUST 2 HOURS! Next release on sale Friday 31st March at 12pm!

As the Summer begins in the midlands we will be showcasing artists from all the brands you can expect over in Ibiza this season.

The party will go on from the late afternoon BBQ session, through sunset and right into the night with the action happening indoors and outdoors .....so gather up your minerals as this one is going to be LARGE

After an amazing Opening Party on 11th March, with Darius Syrossian, Tania Vulcano and the rest of the gang, we just couldn't wait to rave with you all again! What a vibe you guys brought us!

So we present to you, the 2nd edition of Sankeys Birmingham on Saturday 13th May, where we return to our Milk Street home for an all-day/all-night special! ❤️

The line-up will be bigger than ever and we expect tickets to sell even faster than the Opening!