---
Buy tickets
Ticket Type
Price ($)
Fee ($)
Quantity
---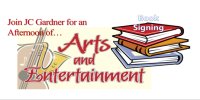 An afternoon of entertainment, celebrating the new release of my latest novel, "Heated" and the re-release of Sinful Liaisons. This will also kick-off the culinary scholarship fund in honor of my mother: The Charlotte Martha Elliott Scholarship Fund. 10% of all sales for JC Gardner products will go towards the fund to be awarded in the Fall of 2018.
I'm all about lifting up young people, so we will have three fabulous performers, along with Klick, an R&B jazz band. Light Fare will be served, along with a few other surprises. This is a family affair with casual attire.
Every guest receives a FREE GIFT with their ticket purchase. Upon checkout, you will be asked to make a selection. You may purchase up to 4 tickets at one time.
Contact JC Gardner for more information: email authorjcg@yahoo.com or visit booksbyjcg.com.
I thank you for your support. May God bless the desires of your heart.
*Tickets are non-refundable*