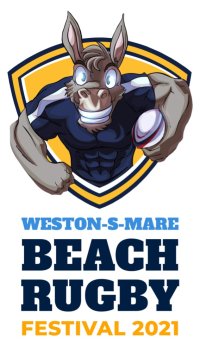 This years Weston's Beach Rugby Fest is taking place on the Beach at Weston-s-Mare, Friday 5th to Sunday 7th August 2022, with a theme of "Baywatch" where we encourage you to dress accordingly! 
We are encouraging Mens, Womens and Family teams to enter a squad of up to 10 players, 5 players playing at one time, with rolling subs and enjoy the fun of Tag Beach Rugby, with just £150 entry for each team to book your place.
We have teamed up with Karuta Sportswear kit manufacturer who can design your own bespoke kit for the tournament https://karuta-sportswear.com/product-category/club-shop/wsm-beach-rugby 
Launch and Party on the Beach Parties

Friday will see our official launch party in the marquee with music from local band the 'Lipinski's'. On the Saturday evening Its Party on the Beach in the marque with music throughout.
Camping
Camping is available at both Weston Rugby Club and Hornets Rugby Club, offering pitches for tents, toilets, shower facilities and breakfast. Both venues are available for 2 nights (Fri 5th & Sat 7th August 2021), Prices are currently £10 per night, per person (plus booking fee)
Caravan/Motorhome
Pitches available with electrical hook up, price based on staying 2 nights per caravan/motorhome
Cancellation Policy

Cancellation of less than 30 days prior to the event is 100% non-refundable. This includes no shows and same day cancellations. A 50% cancellation charge will apply from the time of booking up to and 30 days before arrival.
All cancellations and refund requests must be submitted in writing by email to the organisation. The organisation is not responsible for any bank charges for incoming/outgoing payments. All booking fees and accommodation deposits are non-refundable but transferable. If the event must be cancelled due to the COVID-19 pandemic, tickets can be transferred to the 2022 date or a full refund will be made available. Please note that the booking fee is non-refundable however it is transferable.
Covid Policy
Due to COVID-19 and in order to protect the health, safety and welfare of all persons at the event, we will be implementing strict guidelines and control measures.
If you have had any form of personal contact with anyone suspected or confirmed to have COVID-19 within 14 days – Please DO NOT attend the event. If you have any symptoms (A fever, cough, sore throat, loss of smell/taste, nausea/vomiting or difficulty breathing) – Please DO NOT attend the event. On the day of the event if you are suspected of having symptoms for any reason by event organisers you will be asked to LEAVE SITE.

Sanitiser stations will be available throughout the site and all staff, food suppliers, guests will be required to check in with the NHS Track and Trace. Once more information is provided from the government we will update accordingly. Our number one priority is the safety of all involved.