---
---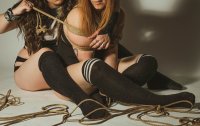 Looking for a complete introduction to Shibari?
Have you been to some of our Thursday sessions and are looking to progress further?
Have you been exploring Shibari online during lockdown and now looking to solidify your knowledge?

Then this course is for you!

You'll be able to learn all the basics of rope in this midweek course taking place over 4 Wednesday evenings in September. Taught by in-house teachers Petite Pretzel and Goddessinrope, the class will be fun, social and informative, taught in a welcoming and approachable atmosphere.

You'll learn everything from safety and all the basic techniques, to how to handle rope and how to work with the body. We'll cover a variety of classic patterns, shapes and ties, and get your creativity going regarding rope and play.

When does this course take place?

Wednesday 10th 6:30pm-10:30pm
Wednesday 17th 6:30pm-10:30pm
Wednesday 24nd 6:30pm-10:30pm
Wednesday 1st 6:30pm-10:30pm
Who can come to this class? Are there pre-requisites?

There are no pre-requisites for this course. This class is open to all levels and complete beginners. No rope needed. No experience needed. Switching is allowed throughout the class (tying and being tied).
What should I bring and what do I wear?

We have ropes you can use during the class and we have a communal kitchenette, fridge and microwave. Tea and coffee are free but you should bring your food and snacks (we have plates and cutlery you can use). People usually wear comfortable clothing like yoga or dance attire. We advise against loose fitting clothing and also jeans can sometimes feel a bit restrictive to move around in and difficult to tie on.

//

For our Covid-19 policy please see here.