---
---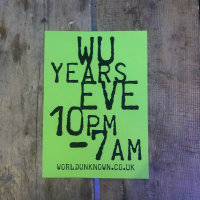 Having spoken to the people at our WUYE and WUYD venues and assessed things thoroughly from the safety, general mood and potential further restrictions perspectives we've decided to take WUYE off the table for now and roll everything into our 10am start New Year's Day party.
It seems by far the most sensible thing to do in the absence of any real news and all the rumours of announcements and/or changes on various days muddying the water and making it tricky to make firm decisions and give staff, venues, suppliers and you guys straight answers about where everyone stands knowing we could all have the rug pulled from under us at any moment.
The huge garden and marquee gives us the freedom to go all outdoors if we have to or choose to. The venue have just had new heaters fitted in the large marquee and we'll get fires going in the rest of the garden. The most likely new restriction seems to be a ban on indoor mixing so this will allow things to happen if that turns out to be the case.
Everyone who already has a WUYE ticket obviously gets a free one to WUYD and they also get a free one to when we can reschedule at the warehouse. It's highly possible that we'll be able to do this at some time during Chinese New Year at the end of January/start of February and if it has to be later than this the free ticket will still be valid of course.

We'll be in touch with all WUYE ticket holders to advise on how to access these two sets of free tickets.There will be £10 and £15 early entry tickets for WUYD and all day entry tickets are £20 rising to £25 at some point.

The people who have already bought Billet Magique tickets or £25 ones for WUYE will get a drink on us at WUYD and another one at the rescheduled WUYE warehouse party when it happens.
For now WU Years Day will run from 10am until 1am and happen all outdoors with lots of cover and heating. If things progress in a positive direction we're not ruling out having a second dance floor indoors and staying open later but we'll very much have to play that by ear and let you know closer to time.

https://www.tickettailor.com/events/worldunknown/623254