---
Buy tickets / Join the guestlist
Ticket Type
Price (£)
Fee (£)
Quantity
---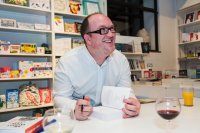 Wyburn-Mason syndrome. Ever heard of it? Dan Jeffries has and his memoir 'Me, Myself & Eye' explores what it's like living with one of the world's rarest medical conditions - and then finding out you have another one.

As well as exploring his story at Novel Nights Dan will also talk about how the book was made: from the creative process and crowdfunding to producing an audio book and harnessing social media. Accompanied by an engaging slideshow and with useful tips and insights, Dan's talk promises to be an entertaining and informative journey.
Dan's story is told through innovative new approach that combines the traditional reading experience with modern technology, Me, Myself & Eye really lets the reader delve into Dan's life story. Use your smart-phone, tablet or computer when you're reading the book to look at family photos, medical documents, scans, videos and even listen to music he's written over the years.