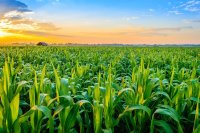 "Accelerating the development, advancement & efficiency of sustainable & regenerative farming"
AgriTech 4.0: Crops, Seeds & Soil 4.0 focuses on the key aspects of enhancing technology, research, practises, and processes for the farm to improve the development and evolution of sustainable and regenerative agriculture. Improving our technology, practices, and methods can lead to healthy soil when combined with the rights seeds and managed effectively is capable of producing high quality, nutrient dense crops whilst simultaneously improving and leading to productive farms.
This year's edition will host up to 45 unique presentations from farms, farmers, research & development, technology and solution providers over the two days of the programme that will focus on the importance of the management of crops, seeds and soil within our developing technological, sustainable, and regenerative practices and processes. With technology and research rapidly changing capabilities how can we continue to utilise and implement knowledge & understanding gained into the land to ensure that we are continuously improving sustainable and regenerative agriculture practices.

Crops, Seeds & Soil (CSS) 4.0 Event Homepage
Day 1 Conference & Exhibition (Virtual) - Friday 21st October 2022
Day 2 Conference & Exhibition (Virtual) - Friday 4th November 2022
Conference Agenda Key Focus Areas - Digital Technology and Data Support for the Farm; Enhancing Crops, Seeds and Soil on the Farm; Developing and Integrating Solutions into Sustainable Farming; Supporting the Transition to Environmental Land Management (ELM); Continued Steps in Implementing Technology and Processes Into the Farm
Current Conference Presenters - Agreena, AgribotAI, Appleyard Lees, Burleigh Dodds Science Publishing, Cranfield University, Drone AG, Flourish Produce, Gentle Farming, German Federal Office for Agriculture and Food (BLE), Harper Adams University, I. W. Renner & Sons (Normanton Lodge Farm), ICT-AGRI-FOOD, LEAF (Linking Environment And Farming), Map of Ag, Natural England, Oro Agri, Premium Crops, RegenBen. Royal Agricultural University (RAU) - Centre for Effective Innovation in Agriculture, Severn Trent Water, Showsley Farm, Small Robot Company, SOLASTA Bio, Syngenta, TBAT Innovation, Wheatsheaf Farming
Current Companies Attending - Agreena, AgribotAI, Appleyard Lees, Bayer CropScience, Boddington Estates, Burleigh Dodds Science Publishing, Climate Change Platform, Corteva, Cranfield University, Drone AG, Flourish Produce, Game & Wildlife Conservation Trust (GWCT), Gentle Farming, German Federal Office for Agriculture and Food (BLE), Harper Adams University, I. W. Renner & Sons (Normanton Lodge Farm), ICT-AGRI-FOOD, LEAF (Linking Environment And Farming), Map of Ag, National Centre for Precision Farming, Natural England, National Trust, Net Carbon, NFU, Nico Orgo, Oro Agri, Premium Crops, Progressive Agriculture Services, S E Bell Agri Food, Severn Trent Water, Showsley Farm, Small Robot Company, SOLASTA Bio, Syngenta, Royal Agricultural University (RAU) - Centre for Effective Innovation in Agriculture, TBAT Innovation, Tech 4.0, W. B. Fake & Son, Wimpole Estate, Wheatsheaf Farming

Attendee Ticket Option Includes
Full conference & event access provided for the entire event
Instant messaging and 1-1 video networking with any attendee
Ability to arrange 1-1 video meetings with any attendee
Access to the event platform for 30 days for you to use and to network with other attendees
Access to recordings of event presentations
Customisable company & attendee profiles with various multimedia content options
Company branding on the event website, at the event & all related marketing materials
IF YOU ARE INTERESTED IN PRESENTING AT THE CONFERENCE OR WOULD LIKE TO VIEW THE AGENDA PLEASE EMAIL INFO@TECH40.NET