Welcome to BEO
at the Great Southern Killarney, Kerry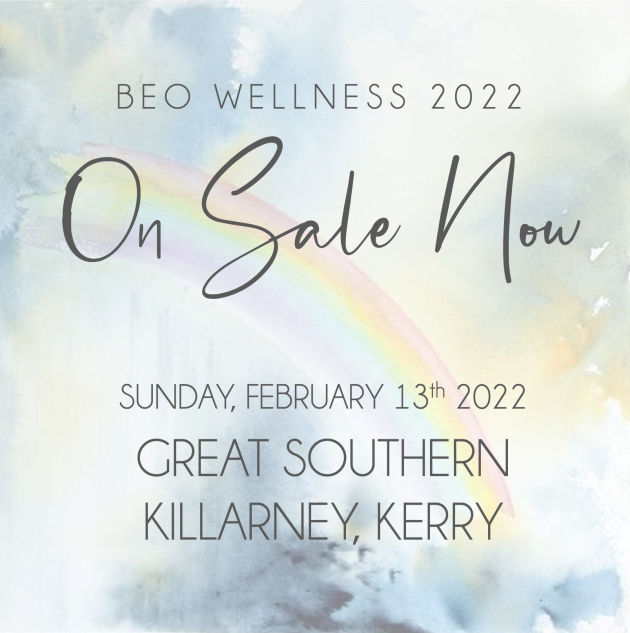 2022...we are coming for you!
Live events are our happy place and we want YOU to join us this New Year to embrace positive resolutions and beautiful new beginnings.  We can't wait to start 2022 inspired, encouraged...together!
A day to recharge and refocus in a relaxed and welcoming atmosphere, this is the perfect opportunity to spend time with friends or indeed take time for yourself, indulge in our famous BEO Breakfast Bites and BEO Brunch classics and enjoy an informative, educational and entertaining afternoon.

We are ambitiously and tentatively looking forward to the New Year to have those social connections once more, to be more present and savour every moment of that unique shared experience. THIS is what lies at the heart of BEO, the Irish translation for life, living...to be ALIVE...who's ready to start living again with us?!

Silver Linings is the theme for the New Year so let's revel in the cliché that no dark cloud can forever prevent the sun from shining.  We will be sharing details of our upcoming events across our social platforms over the coming weeks.  We invite you to join us for new shared experiences, new adventures and new chances to get it right.
Tickets

 

Tickets are priced at €100 (including booking fee).  
Doors open for registration at 11.30am. 

For any queries please contact Aoibhin and Sharon at hello@beowellness.ie or visit our website www.beowellness.ie for more information.  

Terms & Conditions
We have considered the scenario that would necessitate cancellation and will allow an adequate timeframe for this if the situation arises.  Attendees will be notified by email once information is available.  
If a cancellation is necessary, all attendees will be refunded in full.  We are working closely with our venues to ensure best practice is adopted and guidelines are adhered to.  
As the situation and restrictions relating to COVID-19 are fluid, it is important that we continue to review, adapt and follow the latest guidance from Government.  We ask our attendees to be patient and understanding as we navigate through the event planning process.  While the above times are our preferred timings for the day, we have been advised by our venues that times are subject to change.  We will continue to communicate with all attendees once information is available.

We will collate and safely maintain contact details of all hotel staff, BEO team and attendees, in order to comply with Track & Trace requirements.
Our Crowd Management Plan
We will follow the latest social distancing advice - protocols and practices will be adhered to.
Social distancing measures will be applied both inside and outside of the event.  
Separate entrances and exits will be imposed if required.
All queues will be marshalled, both entry and on site.  
Refunds
Please note spaces are very limited in each venue.  Unlike previous BEO events, we will not be in a position to allow transfers from venue to venue.
Refunds will ONLY be processed if the event is cancelled.