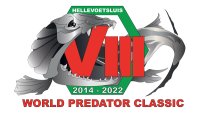 Angling Spirit are delighted once again to be staging the forthcoming edition of the World Predator Classic on the Haringvliet with the event host city of Hellevoetsluis.

Now in its seventh year, the World Predator Classic has established itself as a prestigious event in Europe.
The format of the World Predator Classic event remains the same with the competition taking place over three days with a rest day after the second day and the target species being Zander, Pike, and Perch.
There will be a huge prize table in excess of £70,000 to compete for with prizes being allocated from 1st to 10th place overall, Longest Fish in each category, Team Event prizes first to third, and Best Sportsmanship Award.
Entries are in extremely high demand and are limited. If you would like to participate you are strongly advised to apply for a place and register promptly. Click here to view World Predator Classic 2022 event information.
Tight Lines everybody
2022 EVENT DETAILS - click here to access full event details

• Strictly catch & release format using Catch, Photo, Release (CPR) format
• Lure fishing only - No live baits
NEW 2022
You may not know but since 2011, Angling Spirit has in the background been conducting environmental clean-up operations and helping many children to overcome difficult situations by organising angling educational initiatives & events.

To promote all these projects we will be launching really soon a new website Spirit OF Angling where all Friends OF, School OF Minnows, and Best OF Practise initiatives will be showcased.

So in line with other events run by Angling Spirit, we are now introducing as part of World Predator Classic registration requirements that a clean-up operation is being conducted by all participants.
How it works:
Clean-up registration can be done any time from registration time up to 2 weeks prior to the start of on-site registration.
Preferably around water be it a river/lake or the sea but anywhere is good as long as you can make a difference to a site which is dear to you.
Always better if you can have friends and family joining you and make a great day out of it.
Take a minimum of 5 pictures and post them on your social media accounts making sure the post is set to public access for all to see.
Email us the link to your Facebook and or Instagram post so we can see it and validate your entry
EVENT ITINERARY - click here to see the full event itinerary
COMPULSORY CONDITIONS OF ENTRY - click here to read all important event Q&A
- Anglers to be a minimum of 18 years of age at the start of the competition
- Complete a cleanup operation
- One angler per boat must have a valid International certificate for operating of pleasure craft' or equivalent
- Boat insurance to include the public liability to cover any third party damage in the event of any incident
- Event run in conjunction with local fishing and sailing rules - see following links for details:
Local rules in English - Local rules boating/fishing - Local rules sailing/boating - Local fishing map
ENTRY FEE INCLUDES
Entry into the event includes fishing permits
Captains' dinner with drinks and entertainment
Welcome Gift
Fantastic prize table
COST OF ENTRY
Boat entry - 2 anglers
Generic Boat entry (no branding)  £1500
Sponsored Boat entry (includes Sponsor link package) £1800

Team category - 2 boats necessary to make up a Team - dedicated Team prize table - click here for full Team info
Generic Team (Team name not related to a brand or product) £300 (£150 per boat)
Sponsored Team entry (Team name depicting a brand/product) £500 (£250 per boat)

Sponsor link package - £300 per brand with a maximum of 2 - click here for full sponsor link package info
Sponsor link package ensures a sponsor's name is associated with a boat entry throughout the event
WAITING LIST/PRIORITY INFORMATION LIST
No more space or not ready to register now - why not leave your details on the list to receive priority information in the future. Link to waiting list available on next page.