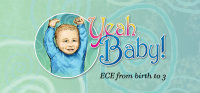 Yeah Baby! is a specialist conference concerned with the education and care of our infants from birth to three years of age. This one-day conference runs from 9am-3pm on a Saturday and includes trade fair, and great seminar and workshops style presentations. The format for the day ensures delegates will return to their early childhood settings affirmed and inspired with up-to-date research as well as practical advice, guidance and solutions all relevant to work and play with children under 3. New information is shared each year and each programme varies according to region.
Programme:
Kaiako Create the Environment for Love and Learning – Toni Christie
In this opening session Toni will introduce participants to a range of theory and practical applications for setting up environments that will spark joy and encourage exploration for our youngest learners.
We will discover contemporary early childhood environmental theory such as Brain SET design and the Honeycomb Hypothesis. Ideas and examples will be shared through images and discussion around provocations, invitations, biophilia, continuity, kaupapa, and other environmental essentials that we can influence as Kaiako every day.
Creating Authentic Relationships with Whānau Through the Settling Process – Ali Porteous
It is essential for tamariki in our early childhood environments to have secure relationships with their kaiako, as this will enable them to develop and learn to their full potential. Also vital is the trusting and open relationships Kaiako build with whānau. This workshop will introduce a robust and practical settling process based on research that Childspace was able to complete through the Teacher-led Innovation Fund. This session will include the rationale and success of why a key kaiako system is a team approach, how to incorporate home visits into your settling process, the role of kaiako during this process and how to form and maintain partnerships with whānau.
Celebrating Curiosity - Science and Technology in the Very Early Years – Robin Christie
Infants and toddlers are born with a natural desire to explore their world, and to discover its secrets and surprises through playful experimentation. In ECE settings our role as science and technology educators is simply to share in this joy! Join science educator and all-round goofball 'Dr Bob' for a hands-on series of simple experiments and experiences that will lay the foundation for a lifetime of discovery, curiosity, and fun.
Cost: $180 per person (includes morning tea & a light lunch).