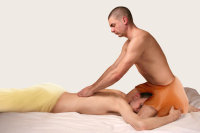 Touch and Massage - Make your Dream come true...
If you have always been interested in massage, or you have often played with the idea of pursuing an activity that you love on an independent and self-employed basis, or you would like to re-experience the massages and group togetherness, then this training could be something for you.
Topic
The origins of Tantra go back to the second century A.D., Tantra massage to the 1990s. Since the release of the GAY-TANTRA Massage DVDs by Armin Heining in 2010 at the latest, Tantra massage has become widely known within the gay community in Germany and Europe. The described Tantra-Massage Training, developed by GAY-TANTRA and proven in practice, is unique in Europe. It is a non plus ultra in terms of the art of massage and the culture of body contact.
Participants
Not only professional masseurs, but also interested non-professionals can profit greatly from this training. They can enhance their knowledge of Tantra massage and gain inspiration from the erotic energy generated.
You can visit the training for professional further education, or also private interest, for example together with your partner. In combination with a basic medical education (for example pool supervisor, masseur, alternative practitioner, doctor), or a registered business (for example wellness specialist, sex worker), the 'Tantra Masseur' is authorized to offer the learned massages for money.
Training Objective
After completion of this training, participants are able to perform two different tantric massages by themselves, including an elaborate genital and anal massage. And they know various ways of professionally enabling the energy climax to happen.
Training Qualification
After a successfully conducted oral and practical test, the document 'Tantra Masseur' of GAY-TANTRA by Armin Heining is awarded. This certificate, with which the holder can actively advertise his enhanced qualifications on his website, the social media and other profiles, attests the quality of his Tantra Massages and distinguishes him from the mass of (Tantra) masseurs.
Meet Armin and former participants, inviting to the Phoenix training
Course and Contents:
Regarding the tantric philosophy at GAY-TANTRA massages the whole body gets touched in different ways including all sensitive body segments. As an important source of our zest of life sensations of sensuality and pleasure are core parts of Tantra.
Preparation: After your registration until the start of training
Theory:
Film: What is GAY-TANTRA ?
Film: About the Erotic Massage
Film: About the Genital Massage
Film: About the Anal and Prostate Massage
Practice:
Independent preparation with the help of the three GAY-TANTRA massage films:
Step by step you will learn how to study with the films before the beginning of the training.
Segment 1: The GAY-TANTRA Erotic Massage (2 days)
Theory:
Erotic GAY-TANTRA Massage: Basics and History
Preparing the Massage Place
Little Knowledge about Massage oils
Practice:
Rituals and Techniques of Beginning
Sensual Seduces
Backs and Legs Massage
Upper Body and Arms Massage
Necks and Face Massage
Segment 2: The GAY-TANTRA Genital Massage (1 day)
Theory:
Genital-Massage - Basics
Genital-Massage - History
Anatomy of the sexual organs
The Chakra-Energy System
Practice:
Active Meditations
The Big Let Go
Techniques of genital touch
Discharching with pleasure
Afterglow
Segment 3: The GAY-TANTRA Tender Massage (2 days)
Theory:
GAY-TANTRA Tender Massage: Basics and History
Massage place set up
Practice:
Techniques to get centered and find Inner Peace
Rituals of Beginning
Surrounding with Silence and Peace
Gentle Upper Body and Anal Massage
Necks and Face Massage
Segment 4: The GAY-TANTRA Anal Massage (1 day)
Theory:
Anal-Massage - Basics
Anal-Massage - History
Careful preparations (Anal Washing, Lubricant, Hygienic)
Anatomy of the Anal Organs - The Male G-Spot
Female and Male Energies of Man
Practice:
Active Meditations
The Subtle Let Go
External Anal Massage (Pelvic Floor, Coccyx, Prostate Gland)
Internal Anal Massage (Sphincter, Inner Space, Coccyx, Prostate Gland)
Discharching with pleasure
The Inner Orgasm
Segment 5: Self-practice of the massages learned in the training (until Aug 31, 2023)
10 documented erotic or tender tantra massages with genital / anal & prostate massage to acquaintances, friends or guests
Segment 6: Tantra Masseur - Certification
Theory:
Oral examination via Skype (30 minutes by prior appointment)
Practice:
Discussion of the practice documentation (30 minutes by prior appointment)
Preparatory and Accompanying Media
First-time participants will receive three GAY-TANTRA massage educational films and various other study and information films (value about USD 60) after complete registration to download for free.
Beginning of the training you will receive the 'GAY-TANTRA™ Training for Tantra Masseur (certified) Program Study Guide', a comprehensive manual that immerses you in the unique GAY-TANTRA™ massages and other important related topics. It allows you to get the most out of your GAY-TANTRA™ training! The Study Guide will introduce you to and supports you on your path to immersion in the GAY-TANTRA™ massages. The 'GAY-TANTRA™ Training for Tantra Masseur (certified) Program Study Guide' (value about USD 35) is available exclusively to training participants and is not available elsewhere!
Additionally books and DVDs can be bought during the training at the spot.