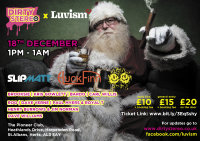 Who's up for a Xmas Party of all parties???

Dirty Stereo & Luvism have joined forces for another event!
For those of you who came to Rise Up festival back in July you'll know that we both attract up for it, friendly like minded reprobates with zero attitude. Just the way it should be.
We have booked a mahohohosive headliner - the one and only Slipmatt along with Huck Finn and the Acid Brothers
Dirty Stereo faithfuls Brooksie | Kris Gowlett | Bardo |Carl Willis
Luvism have in control Roo | Dave Verne | Paul Myers & Royal T | Henry Burrows & Jim Norman | Dave Williams

Expect Old Skool House | House | Tech
Tickets £10 early bird, £15 general admission and £20 on the door
See you on the 18th at 1pm sharp for 12 hours of the best crowd and the best tunes!
25+ No refunds

Please see for COVID RULES (set by the venue): https://dirtystereo.co.uk/covid-rules

The venue's management reserves the right to refuse admission. If you're old enough, look the part and act the right way then you'll be welcomed  to the club. We encourage people to drink responsibly, so we reserve the right to refuse admission or service to customers who are, or appear to be, intoxicated.