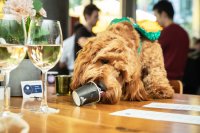 IT'S BEGINNING TO LOOK A LOT LIKE CHRISTMAS...
The official and best Cockapoo Cafe™ is coming back to London this Christmas to start the festive season with a BANG! On Sunday 5th December, we'll be hosting a cockapoo-shaped takeover at The Refinery at Regent's Place. After all 'tis the season to PAWTY!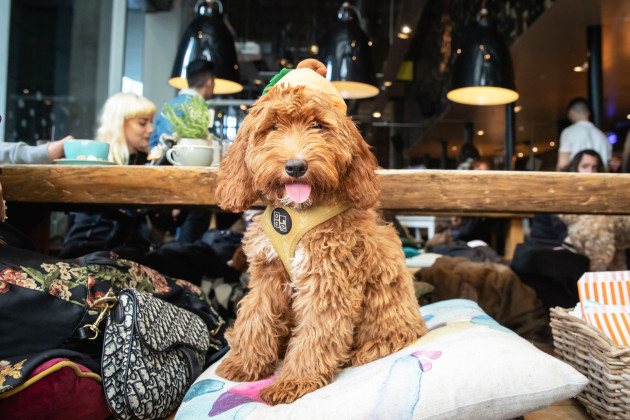 If ever there was a time to celebrate Christmas in style... this is it. Treat your cockapoo to the best day out and join us for...

Christmas festive fun - start the party season off with a bang!
Your chance to meet Santa Paws in real life
Your dog can sit in Santa's Sleigh for photos and lots of festive fun
Christmas-themed event in a beautiful setting in the city close to Regent's Park - make a day of it!
Festive Doggy Bakery including freshly baked mince pies for dogs
FREE Pupuccinos from the Pop+Bark mobile Pupuccino Bar
Delicious seasonal menu of food, mulled wine, Christmas cocktails & more
80 minute off-lead session - perfect for socialising your dog
FREE Professional photos of you and your dog available after the event
The official Cockapoo Cafe event - original and best!
Please note this is a ticketed event and you must buy / order tickets for every person or dog attending - even if they're free.

Check out our last breed specific Christmas party. We just LOVE the festive season...

So, if you're a proud Cockapoo owner (or just LOVE them!) make sure you bring your adorable Cockapoo to this Christmas event to meet Santa paws, make lots of new friends, mingle and rub paws with lots of others Cockapoos, tuck into some mince pies and show off their Christmas jumpers and outfits. We just LOVE Christmas... especially when surrounded by bouncy, friendly dogs!
This is the ultimate feel-good, dog-friendly event so if you're looking for things to do with your pooch this Christmas, look no further! We'll be at The Refinery at Regent's Place all day on the 5th December with breed specific time slots. Cockapoo Cafe will be at 10am and 2pm.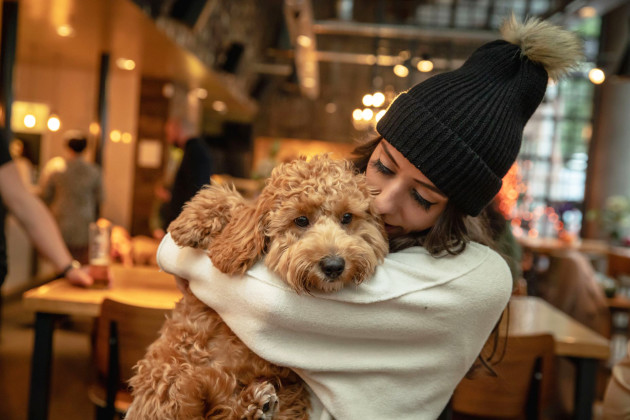 What a year we've had so why not treat you and your dog to the Cockapoo Cafe™. We have so many returning guests to our events because the dogs have the time of their lives. We have a saying here... if the dogs are happy, everyone's happy! We love a great party so you'll find our famous party atmosphere, lots of merriment, Christmas tunes and more.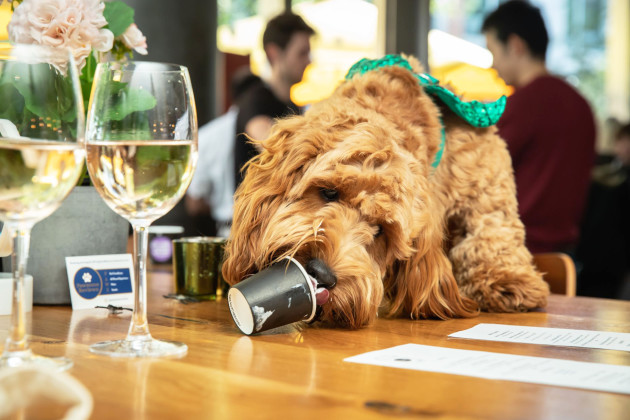 You can bring any well-behaved Cockapoo (or just the right side of naughty!) - big or small, puppy or golden oldie. We are also a super family-friendly event so bring the whole brood! Children love our event so if your child is Cockapoo-obsessed this would make the perfect day out in the lead up to Christmas, or a fabulous Christmas gift experience.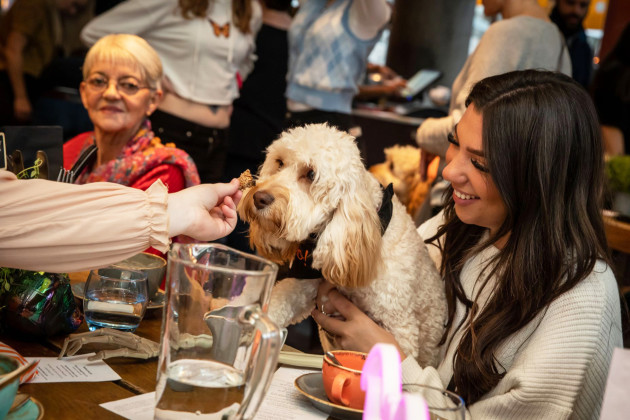 THE BEST THING IN ALL THIS?
You don't need to own Cockapoo to come and enjoy the event and enjoy lots of doggy cuddles and licks. We welcome dog lovers to come and meet lots of Cockapoos, get to know the breed, have the opportunity to speak to Cockapoo owners and - of course - enjoy lots of doggy therapy. Cockapoo lover tickets always go fast so make sure you snap some up if you don't want to miss out.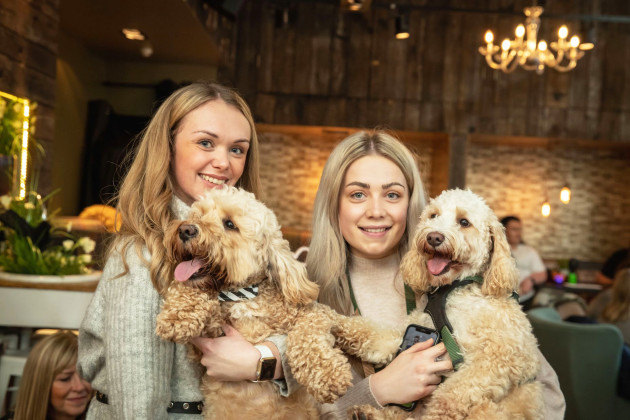 Our dog cafes have had rave reviews from the likes of Time Out, The Telegraph, Lad Bible and more... it's official, we host the biggest and the BEST experience for any dog lover! Our events are often total sell-out so don't miss out. Its the perfect present for your dog-loving friend or partner.
Your tickets cover entry to this event only but your dog will get a free festive Pupuccino worth £3.50 and they are welcome to do the sniff test and choose from a host of tasty toppings including gingerbread crumble, cheese pupcorn, sprinkles, doggy jazzies and more. We'll be rolling out our brand new Pop + Bark Pupuccino Bar so your dog can get the VIP treatment. Just take a look...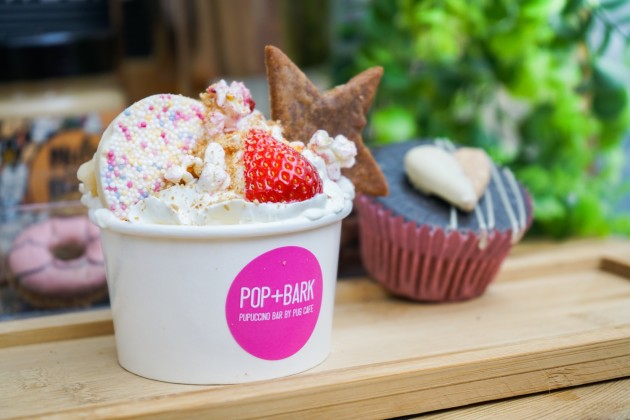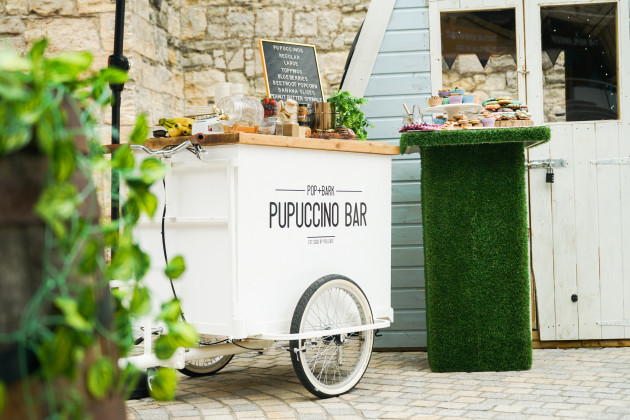 There'll also be a festive Doggy Bakery selling freshly baked Pupcakes, Mince Pies, Christmas Puds, Dognuts, Dog-friendly Gingerbread Cookies and more. Thanks to Rudi's The Doggy Bakery.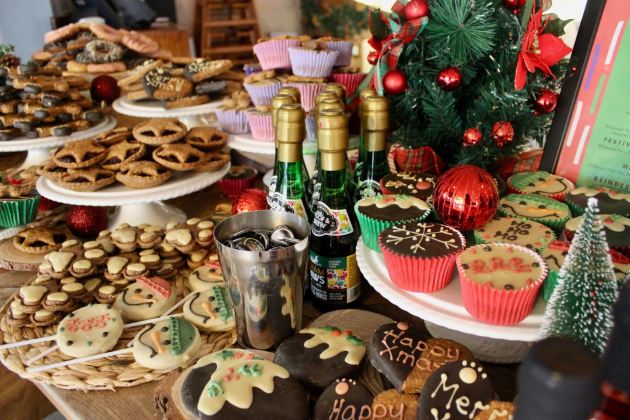 Meanwhile, The Refinery will be serving festive dishes and delicious cocktails. Whether you fancy a full meal or just a few glasses of bubbly - you can tailor your experience to you and your party.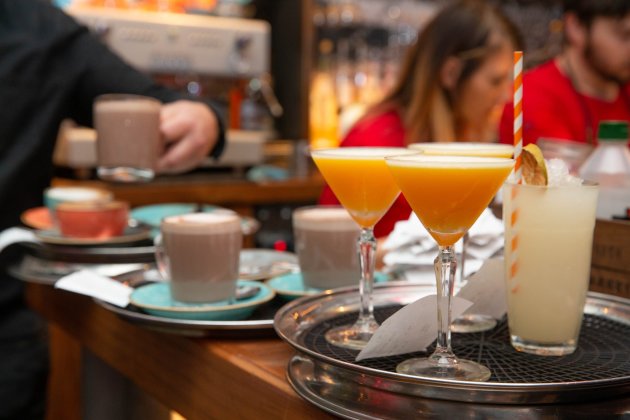 All well-behaved Cockapoos are welcome, but there are some doggy do's and dont's:
Do bring your friendly, well socialised & vaccinated dog
Do feel free to let your dog off lead once inside
Do keep a close watch over your dog as they remain your responsibility
Don't leave dog mess behind – bag and bin it
Don't bring aggressive dogs – if they harm another dog or person it will be your liability
Our previous breed specific events in the London have been extremely popular so we advise getting your tickets as soon as possible. We now sell tickets via a ticketing platform so you'll be able to secure your tickets in just moments - hurrah no more waiting!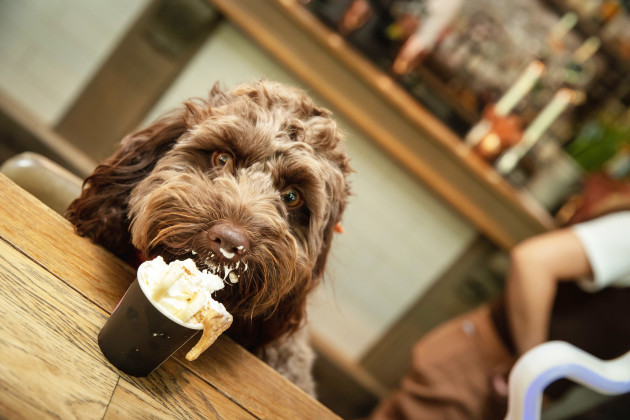 Even though lockdown is lifting, we will be taking all appropriate safety measures and have worked closely with the venue to ensure it will be safe to go ahead. This includes:
Utilising a large indoor area well spaced out seating plan
Multiple hand sanitising stations available
Props to be sanitised and cleaned regularly
Reduced numbers per time slot to allow for more space
In our commitment to hosting safe events, we advise guests that are coming to be completely free of any Covid-19 symptoms. Do not attend if you have any of the symptoms of Covid-19. Furthermore, we do advise you take a Lateral Flow test (available from the NHS for free) prior to attending to ensure you do not have Covid-19. This will not be checked on the day, but we do advise you do this to keep yourself and others safe.
Should the event need to be cancelled or rescheduled due to government advise or change in law, you will receive a refund or the option to transfer your tickets.
T&Cs of attending:
Dogs attending must be friendly, well socialised and up to date with their vaccinations. If your dog is showing aggression towards other dogs or humans you will be asked to leave.
Pug Cafe is the organiser and The Refinery is the venue. We take no responsibility for your dog or its actions, you must keep them safe and if your dog harms another dog or person it will fall under your own liability.
This is an 'off-lead' event where dog owners are encouraged to let their dog off lead but must take responsibility for their safety and actions.
Please check your Pet Insurance to ensure your dog is covered for public liability in the event they harm another dog or person. Should you bring more than one dog, ensure you have enough people to care responsibly them – suggested dog to human ratio is 2:1
If you or your dog are harmed by someone else's dog you must resolve the matter with the dog's owner - Pug Cafe and The Refinery take no responsibility for the actions of the dogs attending.
You must purchase the correct ticket to attend. If you are bringing a dog in your booking you are all classed as 'Dog Owners' and should be in possession of Dog Owner tickets and in attendance with a dog.
If you are not bringing a dog with you to the event in your booking you must buy a Dog Lover ticket.
All children must be accounted for - children 16 or under are charged a reduced rate and children 6 or under are free but you must still order a ticket for them.
All dogs must be accounted for - you must purchase a ticket for your dog (they are free) do not attend without a ticket for your dog. If you attend and do not bring a dog with you but have purchased a Dog Owner or Guest ticket it will be at the discretion of the organisers as to whether you are allowed in - you will be required to pay the additional costs to convert your ticket to a Dog Lover ticket plus a service fee.
There is a No Refund policy in place however you may transfer your ticket to a friend or family member in the event you cannot attend.
If the event should be cancelled you will receive a refund minus the booking fee paid to TicketTailor. The booking fee is £0.50 per paid ticket. There is no booking fee for free tickets (dog tickets or Children 6 or under)
Dogs receive a free Pupuccino and Dog Lovers receive a free bag of dog treats to make friends with, but all other food and drinks for humans and dogs are payable - the ticket covers entry only.
This event is for Cockapoos only please do not bring dogs of other breeds.
We reserve the right to reschedule or cancel the event at any time.
|