---
---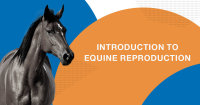 At the very core of the Australian equine industry, is breeding. The advancements in reproductive management, techniques and treatments over the years have resulted in breeding many live and healthy foals.

This short course focuses on basic principles, and is just the beginning to your equine reproduction career. Whether you're already offering limited equine reproductive services, or you have clients wishing to breed locally, this workshop will have you champing at the bit for the 2022 breeding season.
Dr Pascoe is keen to share his experience from decades in equine breeding to help you build your knowledge, and develop the confidence to start working in breeding. From ultrasound techniques and pregnancy diagnosis to artificial insemination and post insemination management, this course will inspire you. Learn about stallion and semen handling, and assessment and freezing or packing semen for shipment. The foundations you need are covered here, to help support your mares through viable pregnancies.
VetPrac, the whole experience!