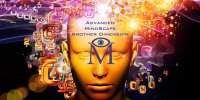 Advanced MindScape : Another Dimension with Andy Spencer Sr.MSI
Online Special Via Zoom
Friday 25th - Sunday 27th March 2021
PST: 9am-2.00pm, EST: 12pm -5pm, (UK Time: 4pm-9pm*Sunday 5pm-10pm)
Times suitable for those in North America, UK and Europe
A fantastic opportunity to take your MindScape to Another Dimension online from the comfort of your own home in this live interactive online seminar via Zoom.  Join Senior Advanced Mindscape Instructor Andy Spencer for his unique version of Advanced MindScape.
Whether you're new to MindScape or an experienced MindScaper, whether you use it regularly or you're a little 'rusty', this class will take your MindScape to Another Dimension. This class is designed to transform how you can use MindScape in your everyday life, and to change your reality. With three days of experiential practice you will significantly enhance the trust in your insights and yourself.
You will come away being able to be in MindScape immediately on demand and work with MindScape with your eyes open.
We will harness the power of MindScape to work on shifting those stubborn habit patterns, limits and beliefs in your subconscious mind and helping you let go of your old story and create your NEW STORY! Are you ready to change your reality?
There's no better time to take Advanced MindScape:Another Dimension
We are in an ever-changing world and need to continually adapt to succeed in life. This Advanced MindScape class is designed to help you let go of old programming, habits and limiting beliefs that create resistance to change. So often we feel we are paddling up stream against the flow......

I am so honoured to witness the changes, growth and healing that occurs in this class. With 3 days of constant practice this class is designed to provide a fantastic platform for MindScapers to really grow the TRUST in the power of their MindScape Workshop, their intuition, and of course themselves. Learning quick access techniques, and practice with open eyes, transforms how you can use MindScape in your everyday life.

Learning to utilise and find answers in our everyday environment as well as our workshop brings a while new level to MindScape. This class is designed to provide a real opportunity to help you gently let go of your old story and create a new reality!

The online format lends itself to some powerful partner work, healing and growth. The privacy of the breakout rooms on Zoom have actually enhanced the power of these sections of the class.

Many students retake this class time and again as each experience provides a unique opportunity for further insight and growth.


Time to create a new story

Ahead of the workshop you will be encouraged to find the 'theme' that you would like to work on during the seminar. Whether a specific issue from 'your story', or any stubborn recurring patterns or issues. During many of the various exercises you will be given the opportunity to glean your own insights for greater awareness. Time to create a new story........
Fast Access Techniques.
Upgrade Speed and Technique.
Confidence and Trust in your intuition.
Opportunities for Practise and Insight.
Helping you let go of what doesn't serve you.
Gain Insights into 'Your Story'.
Identify and remove the fears, worries and limiting beliefs.
Helping you just ease out of old 'baggage' and attachments.
Remove the subconscious programs that are not serving you.
Andy Spencer Sr.MSI, Adv.CBP
Andy is a Senior Advanced MindScape Instructor, and Advanced BodyTalk Instructor. He is passionate about sharing The MindScape System, and training new Instructors around the world. Andy has over 20 years experience in Corporate Finance, and private equity in London, advising and investing in growth companies. He has four children aged 11 to 22

Testimonials

Here are some testimonials from our recent classes.

I took Andy's Basic MindScape course about five years ago and I thought I was doing just fine. So, as curious as I am, I took his Advanced course recently, and I was blown away by it. It was the best decision I've ever made to discover myself. It allowed me to know not only what was holding me back in being myself, but to know the great potential I have to make things happen. This course is well thought out with lots of practicals throughout. I loved the daily interactions that made it really fun; besides, I got to meet great people. I highly recommend it! TO, Energy Wellness Practitioner

This course is a conduit to massive changes in emotional well being, shifts in perspective, unloading baggage at a very deep level. Andy is very personable, an excellent leader keeping the groups coalesced , synchronized and well directed. Anyone who has done mindscape - at any level - would enjoy this course to further deepen practise and expand past mental limitations while having fun. It really is incredible . CP Physician


I have enjoyed for a second time learning the Mindscape process with Andy Spencer, in this case the Advanced course. I have appreciated the clarity of instruction, the very grounded delivery and connection he has created with the students in the group, and the general good fun and humor sprinkled in. All in all it made for a very informative and extremely enjoyable workshop experience. Henry May, Actor/Coach

This course is life-changing. I feel like playing, relaxing and Just giving yourself permission to be is a great way to make life worth living. And this feeling of releasing Control and Just live with ALL our senses is the most rewarding wisdom. Isabella Almeida, Psychologist and CBP

Such a valuable life skill and wonderful follow up to the original mindscape course, Andy's approach is clear and methodical and insightful -it was fantastic to take this course with a like minded group who were all over the world, at once - amazingly successful on zoom. JB Artist

This course has taken how I now use Mindscape to the next level, giving me the confidence to jump in to explore at the click of my fingers. I hadn't expected how much would unfold along the way for my own personal story. Really powerful. Thank you Andy. Julia Morel ,Osteopath and CBP

I absolutely enjoyed the class, truly appreciated all the insight that have been shared by Andy, and love our group! So much healing and growth in the course! Thank you!

Andy is very good at what he does; he is a master teacher. Andy is a problem-solver extraordinaire; he taught us to do the same in this class. Solutioning problems is an area where I normally excel, and I was stuck. I came away having a renewed sense of fun and being able to create exciting, new possibilities in areas of life where previously there were none. Andy's insights are a godsend. Bonnie Jang CBP, Financial Manager


The advanced class was amazingly healing! I really didn't have any expectations just the curiosity to learn more. I found this experience brought awareness to old belief patterns as well as ancestral "junk" that I was not conscious of. Best of all, I was able to release those energies and feel a sense of confidence that I was not expecting. Anne Susas, Healer and yoga instructor

I had so much insight come up in Andy Spencer's Advanced Mind Scape class Another Dimension. It was a fun and fast pace class that I learned a lot about myself in, as well as gaining a greater knowledge and understanding of MindScape. Thank you Andy!! Carla Hinkle, Retired

Andy shines at teaching this class. I took Mindscape with other instructors in the past. Andy's teaching style, knowledge and passion is unmatched. SB Marketing

I just finished 3 days of Advanced MindScape with Andy Spencer. I can imagine taking it many more times, and feel like everytime would give me many gifts and tools. I could use not only for myself but for my clients as well. My MindScape has expanded dramatically during the course, and I feel much more comfortable with the dynamic nature of MindScape. I feel lie I got permission to play in an arena where anything is possible, and am engaging all my senses simultaneously much more easily.
Jennifer Shalit -Naturopathic Doctor Canada

"An incredible life changing event! Thank you Andy!"
Christa Green, CBP Australia

Andy is a master at what he does. This class will definitely expand your MindScape skills in ways you can't imagine, while gaining speed, trust, connection and so many more ways you can apply MindScape in your everyday life. This class meets you where you're at in your own personal MindScape Journey and helps you as an individual grow on all levels.
Ash Knutson CBP, Canada

Loved it! Would love to do it again! I had a truly profound experience in Advanced MindScape : Another Dimension. I felt transformed and deeply shifted in an environment that was safe and challenging which ultimately allowed the experience to be a life changer. The tools and techniques are going to change my ability to use MindScape.
Zineb Soussane, Artist, Morocco

What an empowering class! "You're your own GURU!" A Beautiful experience - how inner and outer reality can interweave and we can cross dimensions, limitless.
Yvonne Lau, CBP Hong Kong

This is the second time I have taken Andy's Advanced MindScape, and the course provided so many insights and allowed me to reconnect with myself on a deeper level. Jiato Hu, Civil Servant, Singapore

The exercises that were in the class will be my 'go to' for many years to play with in MindScape. Andy makes the class very fun and at the same time extremely educational. His patience with all the questions and the intelligent responses were very helpful and showed a lot of compassion and gentle care. Emi Draganova, Managing Director USA

Core MindScape was great, but this Advanced Class is truly life changing.
Michelle Pollard, Surrey

Advanced MindScape: Another Dimension helped me to take a deep look at what was holding me back in life. It was freeing, exciting and absolutely wonderful!
Heike Twelkemeyer, Midwife, Canad

Please Note
This a live interactive seminar online via Zoom
It is not a recorded webinar
You will need a PC/tablet device with a Camera and
Reliable internet connection and speed
You will need to be interactive throughout the period of this seminar
Note This is the full 3 day version of the class and additional homework time is required between class times.
Notes for Monitors/Repeaters.
Monitors before buying your ticket please Register on the IBA to confirm your monitor and IBA membership status and which is the correct ticket for you: IBA Registration Once registered check the email from registrations@bodytalksystem.com to confirm your monitor status.
Please Note that each of the Advanced MindScapes are unique independent classes (just as with BodyTalk Fundamentals Integration). This means that the monitor/repeat rate is only for those who have previously taken this specific version of Advanced MindScape (Another Dimension) with Andy Spencer. Your IBA registration email will confirm your status and fee level.
Online Special rate for the first 8 to pay - investment US$599 (no additional taxes or booking fees).  Monitors of Another Dimension class - only $200 investment