---
---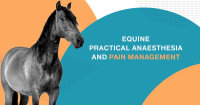 Horses are certainly one in their own, it takes a great amount of knowledge and experience to care for these animals. Their large size and athleticism mean horses also have a higher morbidity and mortality rate in comparison to cats and dogs.

Join us for six weeks, all about horse anaesthesia and pain management. Learn the top tips and tricks you can only get from experience and hundreds of cases. From foals to field anaesthesia and standing sedation, you will learn so much to help your patients and team.
For Vets, Nurses and Techs!


VetPrac, the whole experience!