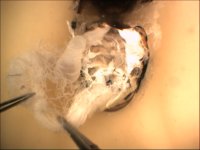 Studying honeybee anatomy helps beekeepers understand how bees have are able to carry out the many and varied tasks they perform. Honeybees have been evolving for 100 million years and have become superbly adapted to survive and prosper in their environment. The aim of this course is to study, explore and gain an understanding of honeybee anatomy and to learn the techniques required to carry out successful dissection.
Topics covered will include:
Setting up and using stereo (dissecting) and compound microscopes
Dissection tools & techniques
Wax embedding and slide mounting
Respiratory, digestive, circulatory, and nervous systems
The sting, flight muscles, and the glands of the head
This course will be of interest to anyone studying towards the BBKA Microscopy certificate, and to support further practical study by students preparing for BBKA Module 3 (Honeybee Pests, Diseases & Poisoning) or Module 5 (Honeybee Biology).
Course tutors are Ken Basterfield, NDB and Dan Basterfield, NDB.

Instructions and venue information
Joining instructions with course outline, what to bring, and venue information will be sent to students upon booking.
Target Audience
Our Short Courses can provide valuable discussion, learning, and hands-on experience for those planning to take the BBKA Assessments above Basic level. The Short Courses are aimed at those beekeepers with some experience of the craft; they are not aimed at novices. We recommend that applicants have kept bees for at least 3 seasons.

Cancellation Policy
We reserve the right to reschedule or cancel advertised courses. Should this be necessary then you will be given the option of a refund or a transfer to another course/date. We will give as much notice as possible, but regret that we cannot be responsible for any other costs such as those relating to travel or accommodation that might result from this.
Students who have booked on courses may cancel and receive a full refund if notice of cancellation is received at least four weeks before the course start date. If notice of cancellation is received less than four weeks before the course start date, refunds will only be issued if the cancelled place(s) can be re-sold.
If a course has to be cancelled at any point due to government restrictions relating to COVID-19 we will refund course bookings in full.
A course booking indicates an acceptance of this cancellation policy.