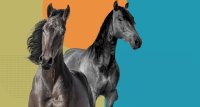 EQUINE NEUROLOGY IN PRACTICE
3 week online series
19th January – 2nd February 2022
A horse with neurological symptoms presents a diagnostic challenge: their large size precludes many of the examination techniques used for small animals. When a full neurologic examination is needed, there is a lot of animal to cover! Signs like a subtle muscle twitch, profound ataxia or head pressing could lead you down a long garden path of differentials… so how can you maximise the yield of your neurological examination, and how do you interpret all the information you've collected? This three-part series is a great place to start.
Spend some time with the wonderful Dr Elizabeth Tee and delve into the full neurological examination for horses. Develop your skills in interpreting the results and creating treatment plans at this live, online course in Equine Neurology. Designed to meet your educational needs and provide you with insight and feedback, you'll be fascinated from the get-go.
EQUINE PRACTICAL ANAESTHESIA AND PAIN MANAGEMENT
6 week online course
3rd February - 10th March 2022
Horses are certainly in a class of their own, it takes a great amount of knowledge and experience to care for these animals. Their large size and athleticism means that horses also have a higher morbidity and mortality rate for general anaesthesia in comparison to cats and dogs.
Join us for six weeks, all about horse anaesthesia and pain management. Learn the top tips and tricks you can only get from experience and hundreds of cases.
This one is for Vets, Nurses and Techs!

INTRODUCTION TO EQUINE REPRODUCTION
Face to face practical workshop
2nd April - 3rd April 2022

At the very core of the Australian equine industry, is breeding. The advancements in reproductive management, techniques and treatments over the years have resulted in breeding many live and healthy foals.
This short course focuses on basic principles, and is just the beginning to your equine reproduction career. Whether you're already offering limited equine reproductive services, or you have clients wishing to breed locally, this workshop will have you champing at the bit for the 2022 breeding season.
Dr Pascoe is keen to share his experience from decades in equine breeding to help you build your knowledge, and develop the confidence to start working in breeding. From ultrasound techniques and pregnancy diagnosis to artificial insemination and post insemination management, this course will inspire you. Learn about stallion and semen handling, and assessment and freezing or packing semen for shipment. The foundations you need are covered here, to help support your mares through viable pregnancies.
VetPrac, the whole experience!