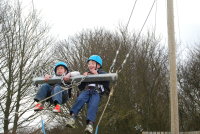 The Under 10s are delighted to welcome you to the BSRFC Minis Family Tour of 2022 – "Horrible Histories 2" to honour the 2020 tour that never was
This year we will be travelling to a PGL run site at Caythorpe Court in Sunny Grantham.
For the uninitiated asking themselves "what exactly is this Tour" all you need to know is it's 2 nights away in a "Stunning location, Luxury Accommodation and Gourmet Food"* and quality time spent with your BFFs !!!
The kids will play matches against a local rugby team, take part in PGL adventure activities and generally have a lot of fun bonding with their rugby mates. The adults go along for the ride, enjoy the evening entertainment and find their way to bar…. The whole family is welcome, or just one parent can come along with their child to enjoy a bit of time together. It really is a lot of fun for everyone so don't miss out.
This tour is without doubt likely to be one of the best experiences of 2022 that you are likely to be part of, and the great news is that we have been able to hold the same price as previous years at £150pp/£120pp with **Early Bird discount. This covers everything including breakfast, lunch and dinner and all activities over 2 nights and 3 days. Kids will receive their Minis Tour kit and a goody bag, all included in the price. Adult shirts and coach travel can be added at an additional purchase at a later date.
We can offer a reduced price of £80pp for siblings, or any rugby players who are aged under 6 on 1st April – please be aware that under 6's will not be able to take part in all PGL activities.

All you need to do at this stage is pay a £60 deposit per person (Non-Refundable).
*this description is not accurate at all. But we can promise fun!

**Early Bird discount is valid until 31st December 2021
Terms: Deposits needed to secure your place, with full payment needed in February 2022. Any Cancellations within the last 60 days leading up to Tour will need to be paid in full.