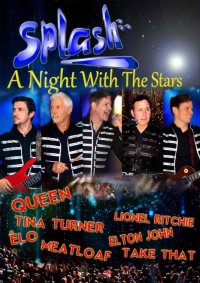 70, 80, 90's, Splash! A Night With The Stars
This is without doubt the best tribute show you will ever see. Over 20 tributes all in one show, seamlessly moving from artist to artist in a show complimented by great costumes, big screen visuals and a spectacular lighting show. Front Man Marc Andrew is renowned for his ability to change his voice to sound like others, but in this show he goes above and beyond. His voice adapts to every artist being performed, and with the amazing Splash Show Band sounding and looking like everyone they pay tribute to, this superb night of entertainment and will have you Partying like it was 1999.
SET LIST INCLUDES:
Take That ... Queen ... Meatloaf ... Elton John ... Tina Turner ... E.L.O... Coldplay ... The Jackson 5 ... Robbie Williams...Lionel Ritchie ...  Franki Valli ... Bruno Mars.. 
Arrival: 19:30
3 Course Dinner: Approx. 20:00
Entertainment Starts:  Approx. 22:00
Finishes: 01:00
PLEASE NOTE:  ONCE YOU HAVE BOOKED YOUR TICKETS YOU WILL BE REDIRECTED TO BOOK BEDROOMS IF REQUIRED

COVID PASSPORTS ARE REQUIRED FOR ADMISSION TO EVENTS – PLEASE SEE TERMS & CONDITIONS FOR FULL DETAILS
Sample Menu
Lentil Soup with Bread Roll & Butter

Supreme of Chicken with Roast Potatoes, Seasonal Vegetables & Pan Gravy
or Chef's Vegetarian Dish of the Day

Cream filled Profiteroles with Chocolate Sauce