---
---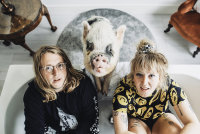 Penelope Isles make lush, harmonic noise pop that's often as catchy as it is exploratory. The four-piece released their debut album, Until the Tide Creeps In, in 2019, following it with the even more lush and melancholy Which Way to Happy in 2021.
Beginning as a family affair, Penelope Isles took root when siblings Jack and Lily Wolter both ended up in Brighton after years apart for their respective educations. Born in Devon and raised on the Isle of Man, Jack -- six years Lily's elder -- was the first to move away to university, to study art. By the time he returned, Lily had followed in Jack's footsteps and begun writing songs and playing in bands. They started a group together called Your Gold Teeth before Lily relocated to Brighton to study songwriting at BIMM. Jack eventually joined her there, and the two singer/songwriters founded Penelope Isles, releasing the EP Comfortably Swell in 2015. Rounding out the lineup with Becky Redford (bass) and Jack Sowton (drums), both prior bandmates of Lily's, they began touring and opened shows for the Magic Numbers, British Sea Power, and Bella Union founder Simon Raymonde's band Lost Horizons. Bella Union issued their full-length debut, the Jack Wolter-produced Until the Tide Creeps In, in July 2019.
Penelope Isles were midway through a sold-out North American tour with Wallows in early 2020 when the COVID-19 pandemic hit, forcing the Wolters off the road and into a cottage in Cornwall. Once there, they focused on writing. Redford and Sowton subsequently left the group, and when it came time to record material for Penelope Isles' second album, the siblings welcomed Henry Nicholson (bass) and Hannah Feenstra (drums) into the fold, with Joe Taylor taking over as drummer before the album's release. Largely informed by the permeating claustrophobia and anxiety of the period, late 2021's Which Way to Happy also featured strings by composer Fiona Brice and was mixed by alt-rock luminary Dave Fridmann (Mercury Rev, Flaming Lips).