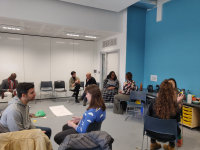 Visionary Skills Training #1: Hosting Talking Circles
A 1-day training for educators who want to enhance their facilitating skills, confidence and embrace the transformative power of hosting taking circles.
(Season: Autumn, Theme: Adversity)
What's on offer?
This one day training, exploring the art of hosting talking circles, kicks off a four-part Visionary Skills Training taking place across four seasons. We start our journey in the Autumn - a time often symbolised by the themes of reflection, introspection, learning to embrace challenges and harvesting the fruits of our labour.
In this training day we develop our ability to host talking circles as a powerful tool to promote self-expression, build compassion and embrace adversity as gateways to healthy individual and collective growth.
Why practice talking circles?
To help build a strong sense of community cohesion and advanced pastoral support

To give space for youth and adults to build authentic relationships

To create interesting, safe and authentic spaces for personal and group expression

Helps participants to develop their ability to reflect on their own experiences, emotions and beliefs

Enhance oracy, communication and listening skills

Learn to accept and embrace conflict as a natural part of life

Help integrate personal and social identities, through reducing cognitive dissonance

Enhance self-awareness and understanding of others
It can feel daunting to open up dialogue with young people about sensitive topics, and yet choosing to 'go there' together can be incredibly liberating. Talking circles offer a powerful gateway to having deeper, more trusting relationships, to young people feeling seen, heard and respected and to creating a shared culture of safety and belonging.
Talking circles offer a way to have powerful conversations, creating bonding relationships between young people and adults, and can be used to resolve conflicts or challenges (including challenging behaviour) in the classroom. They help to put into practice many of the values we say we wish to live by e.g. kindness, honesty, respect, compassion, acceptance, courage….
This 1-day practical skills training will leave you feeling more confident in your facilitation skills and fully equipped to bring talking circles (and other similar forms of communication and enquiry) into your education setting.
We'll walk you through various 'talking circle' techniques, practice them together, discuss their different use cases, equip you to run them safely and explore the theory that underpins this powerful practice.
This is for you if...
You work with young people (12-25) in a mainstream or alternative education or youth work setting

You want to support young people to talk about their emotions and topics that really matter to them (e.g. around identity, relationships and culture).

You want to develop your confidence working with mental health, strong emotions, trauma & conflict

You want to learn to relate to young people in ways that alleviate their suffering, support their learning and make them feel cared for and appreciated

You want to be more confident addressing conflict in your life and at work

You believe in the transformative power of gratitude, deeper listening and empathy - knowing that an 'empathy revolution' is both possible and necessary
You will learn...
How to facilitate different kinds of talking circles

The social and developmental value of talking circles, as evidenced by leading neuroscience and child development theory

How to create a psychologically safe and trusting container

Learn how to look after the wellbeing of everyone in the space - including yourself!

Debunking common myths that hold us back from exploring our emotions and sharing our personal 'stuff'

The difference between therapeutic spaces and therapy ( and why this isn't the latter)

How to maintain safe boundaries and key safeguarding considerations, knowing the limitations of talking circles and your role as the guide
NOTE! Whilst the training is geared towards hosting talking circles with young people, the skills and techniques are highly transferable and can be used with groups of adults too. Perhaps you'll be able to facilitate a talking circle amongst your colleagues!

************************************************************

PAYMENT

The true cost of this training is £110 per participant. However, we charge on a sliding scale to maximise equity of access. whilst ensuring we cover our costs. Please be mindful that if you purchase a ticket at the lowest end of the scale when you can truthfully afford the standard ticket price, you are limiting access to those who truly need a bursary place.
For Schools/Organisations
£150 - High - For independent fee-paying schools and organisations earning £100k+ a year - this price also widens access for those on lower income
£110 - Standard - For non-fee paying schools, organisations earning between £20-100k a year - this price reflects the true cost of delivering our services
£80 - Low - For schools rated 'requires improvement' by Ofsted and organisations earning under £20k a year
For Individuals
Please read about our sliding scale here to decide which ticket to purchase.
£110 - Standard (pays for your place and covers our costs)
£180 - Abundant (pays for your place and supports another)
£80 - Subsidised - (for those in the middle of our sliding scale)
£50 - Bursary (for those at the lower end of our sliding scale)

*please contact hello@thevisionaries.org.uk if you have any further questions or would like to pay via invoice.
Facilitators
Nikki Levitan, Max Girardeau